There are many reasons why I've been away from the blog for the past two weeks- I was in LA for Thanksgiving and Miami for Art Basel. Then, when I returned to chilly, snowy New York, I caught a cold. The real reason for my extended absence from blogging, however, has to do with a lack of inspiration. I was quite simply blocked. I felt I had nothing to say about fashion. Even the simple pleasure of dressing myself- and the way I felt when I opened my closet felt completely joyless.
Enter this weekend: when I was bogged down with a cold, bed-ridden, and armed with a Netflix account. On Saturday, I stumbled upon
I Am Love
. Then on Sunday afternoon, I went to see
Black Swan
with a few bloggers, including
Jennine
,
Ann
and
Tanya
. After seeing both movies, I had a little private a-ha moment. Something to write about! I had been meaning to see both movies for a while- and it was remarkable how many similarities their stories shared.
I Am Love photo courtesy Magnolia Pictures
Both films trace the unsettling psychological transformation of two women with seemingly perfect lives. Over the course of the films, the viewer is invited into two privileged worlds- in I Am Love, a wealthy Milanese family with an old school villa that most of us could only dream of owning and in Black Swan, the competitive world of New York ballet. Both movies have surprising tragic twists which I will not spoil for you here. And both are beautifully filmed- and feature rich costumes (Fendi and Jil Sander for I Am Love and Rodarte in Black Swan).
In I Am Love, Tilda Swinton plays the wife of a wealthy Milanese business man who looks the part with her minimalist outfits and luxury handbags. But the real point of the story is that she is unhappy with her Vogue-worthy life and deep down, she feels trapped in her family's mausoleum-like mansion. What she really wants is to get real- and that means being out in the country with a lover, cooking and shod of ornamentation. Tilda Swinton is a talented actress, and let's face it- she owns the Raf for Jil Sander looks here- but she also owns wearing a bandana and chinos and cooking soup just as well... I Am Love is not a perfect film (there are just too many crazy plot twists and turns) but the coda is complex, and Tilda brings so much to the role that you want to dissect it over and over once the credits roll.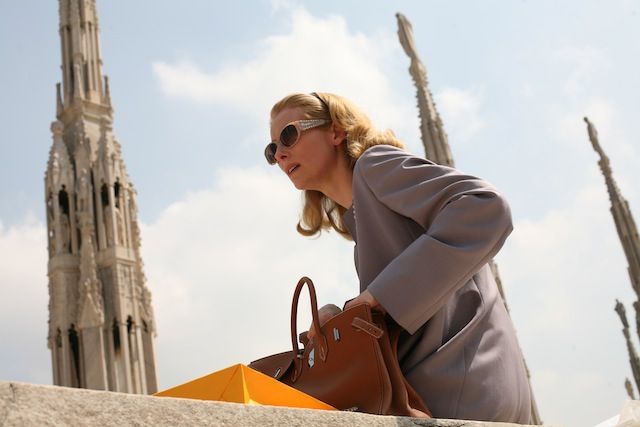 I Am Love photo courtesy Magnolia Pictures
I had a similar initial lukewarm reaction to Black Swan upon leaving the theater this weekend... I questioned whether I had hyped the movie too much or whether I had read too many reviews to make it worth my while. As a ballet fan, I wanted there to be more actual dancing. My knee jerk reaction was that Darren Aronofsky, the director, was trying to express so many different ideas in one film, and it was all a little overwhelming at the end. Natalie Portman plays the ingenue who is cast as the lead in a new production of Swan Lake. Portman's character is a dancer who is so obsessed with perfection and her dance career that she can't see how effed up her supporting characters are: her controlling ballet mom played by the chilling Barbara Hershey, her creepy and inappropriate company director played by Vincent Cassel and her frenemy understudy played by the talented Mila Kunis.
The shots in Black Swan are suffocating and dizzying - in part due to the handheld, shaky camerawork which I remember from Aronofsky's breakout film,
Requiem for a Dream
. Portman does some good work here, even if I was totally hating on her character for being so tense and intense. This film nearly veers into camp territory- with its over the top drama and diva characters- but then, as if remembering that it is an "art film," it tiptoes en pointe back into art film mode- and that was the most frustrating part of the whole experience. It's a little bit of everything rolled into one film- a little bit of drama, horror, campy dance movie (c.f. Center Stage and Show Girls), sci-fi and All About Eve. I wish the director would have owned the camp thing a little more.
Black Swan, photo credit: Niko Tavernise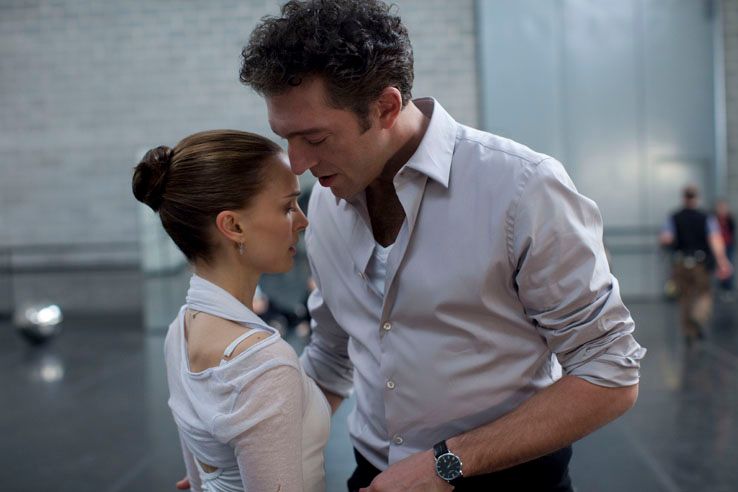 Black Swan, photo credit: Niko Tavernise
In conclusion, I didn't fall in love with both movies right away, but respected their cinematography styles and the overall "thesis" of both. Strong acting work by the leads. And any film with strong fashion wardrobes is worth seeing in my book.
Your thoughts? Did you see I Am Love or Black Swan? Please share in the comments! Let's talk.