My friend Roman runs a pretty cool blog called
Shades Spotting
, which is, as you can guess by the name, all about sunnies. What a great niche! In addition to street style shots of people wearing fashion forward shades, he scopes out unique design collaborations which makes this Californian stuck in chilly New York yearn for summer sunny days. Launched just seven months ago, the blog is definitely worth checking out. Read on to learn more about the world of Shades Spotting...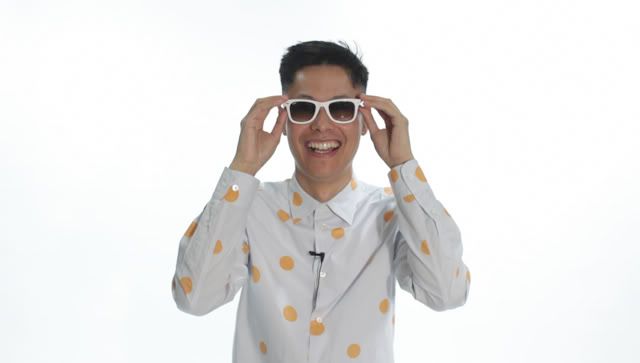 Roman via Shades Spotting
Who are you? Were do you live?
I'm Roman. I just moved back to San Diego County—La Mesa, to be exact—after eight years in New York. I don't think I would be as into fashion as I am now if I never lived there!
Tell us a little bit about Shades Spotting... Why shades?

To me, shades are the "it" piece. I think the culture surrounding shades—especially in hip-hop and street culture—is ready to take off. I like eyeglasses too, but sunglasses don't have to necessarily hold prescription lenses, and this allows for more extreme designs.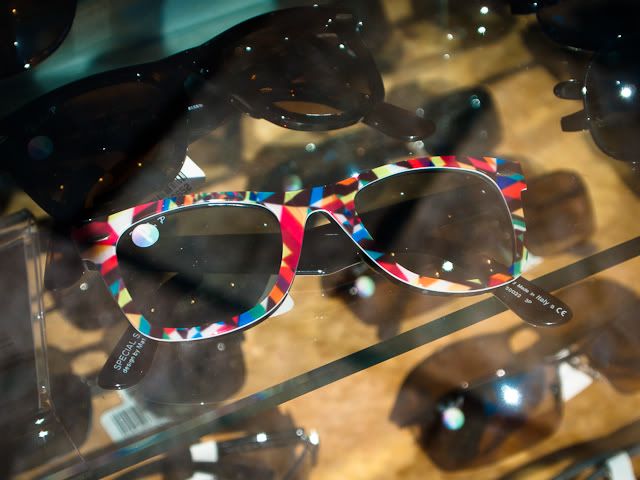 Matt W. Moore x Ray Ban via Shades Spotting
Margiela aviators via Shades Spotting
I'm embarrassed to say that I only own two pairs of sunglasses. Just out of curiosity, how many pairs do you own?
I have twenty. This isn't nearly enough! Collecting sunglasses has overtaken my vices for sneakers and watches. I probably buy a pair a month now.
Do you have a favorite pair currently in rotation?
I go to my Wayfarer 2140 in white or my Super Flat Top in red. I keep it simple unless the occasion calls for more of statement pair.
What do you think of designer collaborations for sunglasses?
With collabs, eyewear designers truly partner with fashion designers to create their vision. It goes beyond licensing a brand to creating one-of-a-kind pieces that genuinely belong to seasonal collections. Like
Mykita x Rad by Rad Hourani
—the sunglasses are insane and true to both labels' aesthetic.
Totally Rad, Totally Mykita sunglasses via Rad Hourani
What makes you stop and take a snap of someone in shades?
I'm rethinking the whole direction of my blog since I don't live in a place like New York anymore. That said, I'll snap crazy or unique shades—especially vintage—but it's really about style. I'd definitely stop and take your photo, even though you have only two pairs!