Proenza Schouler Spring 2011
A few years ago, when I was interviewing for a boring corporate job, and I needed a boring corporate suit, I decided to treat myself to a proper one from Barneys. After what felt like hours browsing the racks, considering the cool navy and black skirts that all felt somewhat too fashion-forward to do the job, I was ready to give up hope.
"Do you have something kinda plain, but not so old lady?" I asked the sales associate, who shook his head sadly.
"We don't really do suits right now," he explained, as I paused in front of a Balenciaga tulip skirt, looking for its "mate" on the rack.
Then, finally, in a lonely little corner, I found an unembellished black button down jacket and a nearly mini matching skirt. Jackpot! I thought to myself, as I peered at the label. Funny that it was Proenza Schouler. I didn't know they made suits.
Then I went into the dressing room, and tried on the jacket- which was a bit thrift-store boxy Jackie O, then the skirt, which was a size too small... I wanted something more slender overall- "More Dolce?" the sales associate offered, handing over a far too sexy stretch knit skirt and cardigan combo. I shrugged.
I considered buying the suit and using the in-house tailor to take it in. But something in me resisted. I grabbed the Balenciaga skirt, the one that didn't match anything at all instead. "You made the right choice," the sales associate whispered. "That suit was just not working for me."
And now years later... it all works for me. I'm craving Lady for Fall, and Proenza Schouler went ahead and did Lady for Spring 2011.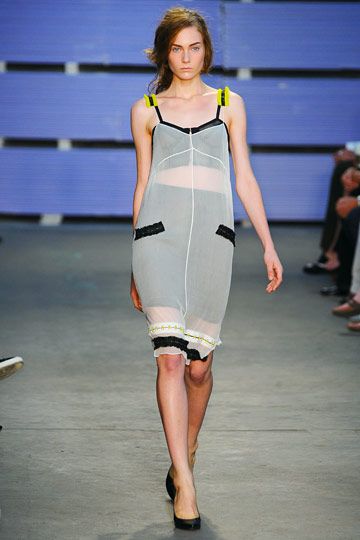 You got the memo, boys. I'm sold.