I have an embarrassing confession: I don't know a whole lot about intimate apparel. I'm not a Victoria's Secret girl, though I've certainly tried a few of their padded bras, seduced as I was, by their windblown, Caribbean set catalogues. One of my friends once went to a bra smith somewhere on the Lower East Side and emerged with a few foundational garments she was happy with in her true size (most women don't really know their true size, I suppose) but I've never been brave enough to be measured by a stranger. I've always known that my size was on the smaller end of the spectrum, but was never happy with the way my bras fit, so I've relied on the few flimsy bralettes and camisoles which have served their basic purpose and, let's face it, worn out over the years.
So imagine my happy surprise when one of the representatives for Barely There offered to send over some of their
CustomFlex Fit
products for review. In between sizes? Hate oddly padded bras? Sick of itchy tags and awkward seams ruining the lines of your clothing? No problem!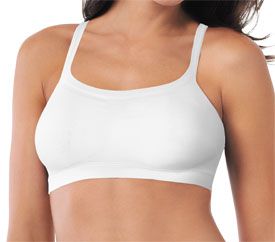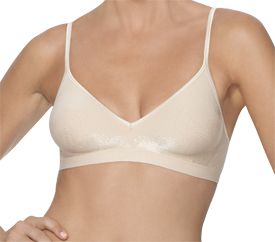 I tried the Bandini and the Wirefree bras (pictured above), both in the brand's CustomFlex Fit collection. These bras come in a range of sizes, from XS to XL, and are nice seamless options for tee shirts and tanks (though, warning: they don't fare well under super low cut pieces since they provide more modest coverage). The support is nice without being too constrictive. I wanted a wireless bra with good support, and they were both comfortable during the day for this purpose. In fact, once I slipped them on for the first time, I felt like I was being embraced by a cloud-- albeit a softly supportive one. These are really great, basic foundational garments for the price point ($24 and under), and I will definitely be purchasing them in the future! For more information and to purchase online, check out the
Barely There
website.
Question of the Day: How often do you shop for intimate apparel?