Gaudion Bowerbank
by Denise Grayson
Gaudion Bowerbank
may sound like an investment firm and in a way, this curated online jewellery marketplace with a difference could be seen as a smart place to put your money.
The London-based studio-boutique was co-founded in 2009 by friends Claire Gaudion and Kelly Bowerbank, both London College of Fashion grads who previously worked as a fashion design assistant and stylist, respectively. The duo collaborated to create a new retail experience, a compelling alternative to mass production. By working with and supporting emerging jewellery talent they are able to offer products on a made-to-order basis.

Working from small studios, the designers devote fine materials, years of expertise, and the hours of workmanship needed to craft the orders by hand, one at a time.

Kelly Bowerbank explains: "We knew that selling only made to order would be a little controversial. The narrative we provide about our designers and their creations allow customers to really identify whether a piece is right for them. Does its story speak to you? Does it excite you? If so, then you know what you're buying is a real investment piece, and if you're going to wear it for a lifetime then who cares if you have to wait for it to arrive?"
The shop currently represents seven designers with diverse styles at a range of price points from the affordable to luxury, though each piece really is luxury in the true sense of the word. Clients can see how their piece is made in the site's
'In the Studio' section
and the merely curious can gain an appreciation as to why a seemingly simple item costs what it does. The design process is documented with sketches, glimpses into the designer's workspace and a diary that details inspirations and explains tools, materials and techniques.

Now that's a great return on investment.


Photos credited to Gaudion Bowerbank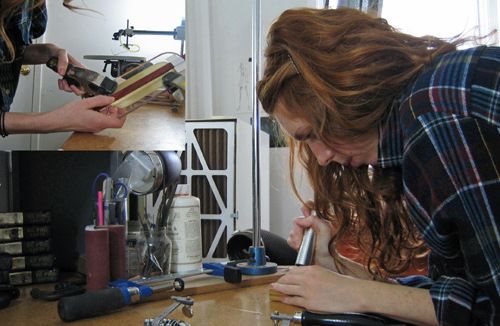 Jewellery designer Heather Kosch in her studio
Aurora Necklace of clear plexi, copper, blood wood and brass bolts. By Heather Kosch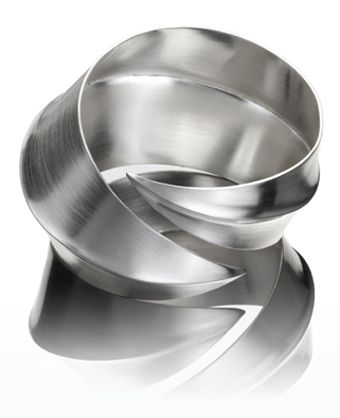 Silver Wave Bangle by LauraJayneStrand
Ruby Browning's Symmetry Bib in leather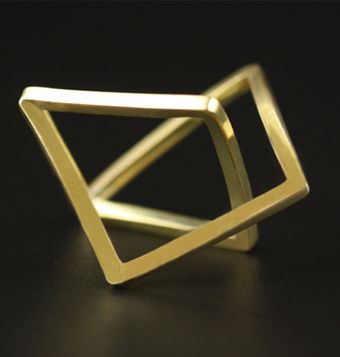 Dancing Squares Ring in gold by Mayza Joao
Denise Grayson is our Accessories Editor and she also writes about fashion at The Swelle Life.