Sleek and Sexy Dressing for Gadgets
by Denise Grayson
You reach into your of-the-moment, covetable, patent leather bag to answer your phone and you pull out a scratched, battered and smudged object that resembles something you found on the ground and not so much that expensive piece of cutting–edge technology you lusted after for so long.
Why such shabby treatment of your trusty little friend who is always there for you? You could be easily forgiven, we aren't quite overwhelmed with stylish choices for carrying around our essential and expensive devices these days; the selection where you bought your iPhone or Blackberry probably made you cry (you know what I mean, the kinds that look right at home hooked on a belt). And those inside pockets of your handbag don't always hold it in (I swear my bag throws up my phone every time I put it in that dinky little pocket).
Designer Jill Partain recognized the need for high quality gadget cases that look great and set out to create them for us.
Plia Designs
offers a collection of high-quality, hand-crafted small accessories for handheld devices.
"Modern technology has become another facet for one to express their personal style, "explains Jill. "I wanted to celebrate this idea, while still honoring the traditions of Old World craftsmanship and construction."
Now that's more like it! You can view the entire collection and range of colours at
www.pliadesigns.com
.

Jill says: "Our pastry collection first started with the macaron. We loved the vibrant colors and flavors of this famous French treat (although some claim the first macaron actually came from Italy.) From there we decided to create an iPhone case collection inspired by several French pastries. Aside from macarons, we created the very pink religieuse and fluffy whip cream topped Saint Honore."
The Bellini clutches made exclusively for the iPhone 3G and 3GS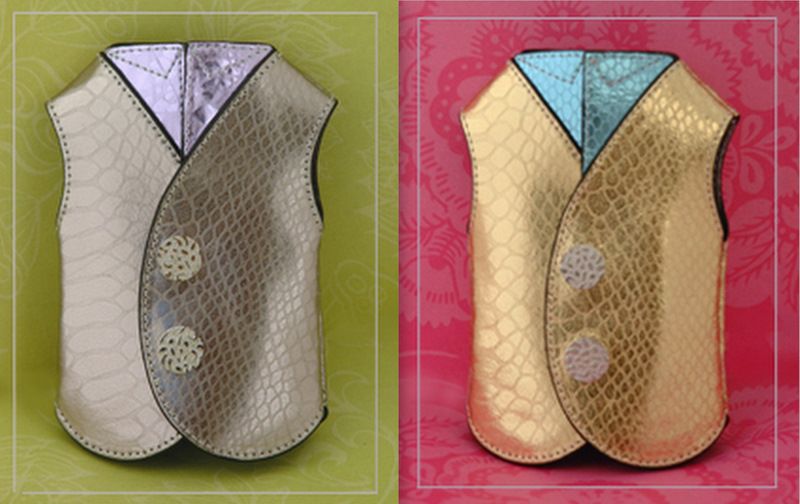 Dress up your iPod Touch with these adorable cases of handstitched python and snake print leather, inspired by vintage dinner jacket
s
iPhone and Blackberry luxe hardshell case
Denise Grayson is our Accessories Editor with an eye for dreamy accessories and also writes about fashion at The Swelle Life.