The Unusual and The Unexpected
by Denise Grayson
We could go our whole lives accessorizing in the usual way and be perfectly content with our belts, scarves, jewelry and hairbands. But what if we stepped out of our routine for a day, for one outfit, and did something really crazy? And here's where a reference to
Lady Gaga
must be inserted for we can no longer talk about adventurous styling without mentioning the current queen of head-turning, boundary-pushing fashion. However, this column wasn't inspired by the unconventional pop goddess; rather it was the unusual and unexpected accessories that already existed in their own right, the result of heaps of imagination and much daring.
Still, some of them have been plucked out of anonymity by Lady Gaga to star in a video or red carpet appearance, such as this eye patch of anodized aluminum worn by Alexander Skarsgard in the video for Paparazzi, made by
And I
(and bears not even a passing resemblance to the 'Arrr' variety):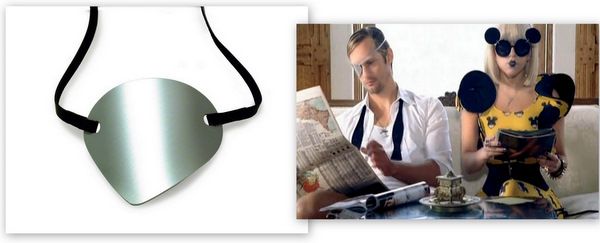 No photo credit given. Only two of these eye patches were created. The other is available to buy at
notjustalabel.com
.
Maybe its moment has passed but if you've been dying for that giant 'lips' wig in Lady Gaga's Bad Romance video, it can be yours for £8,000, available at the
Showstudio Shop
.
No photo credit given. Charlie le Mindu created 'Blonde Lips' in 2009, made of natural human hair and lots of it.
Is it a hat? A cage? Who cares when you're this bold!
Nazir Mazhar
created the brass 'Orb' which was worn by Lady Gaga in V Magazine's Fall Preview Issue, 2009.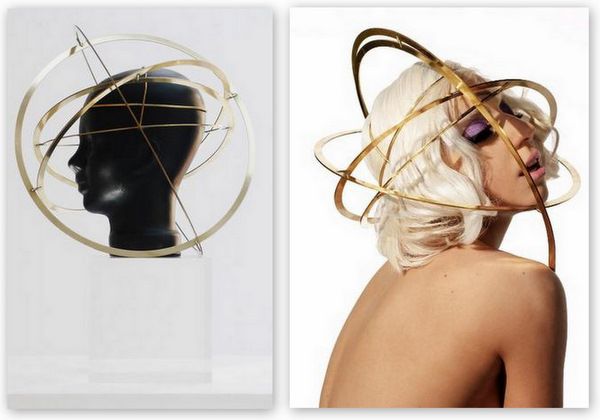 Photo credit: Sebastian Faena. This piece is available to buy at the
Showstudio Shop
for £30,000. You may want to forego your daily Starbucks for a while if you're interested in that one.
Schipperarques
has created a corset for the neck and chin out of linen and embellished it with Swarovski Rhinestones and beads. The designers says of the piece 'it visualizes the restraints of wealth and a prosperous family/background.' Available at
notjustalabel.com
.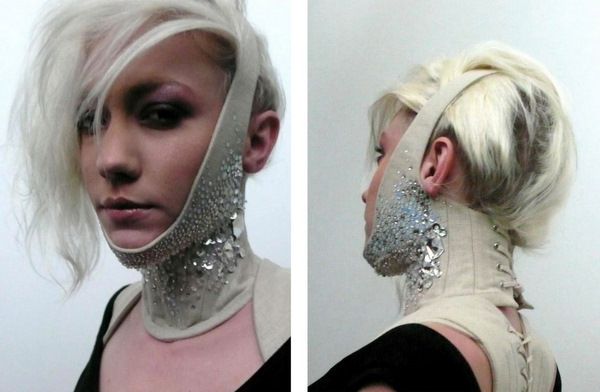 No photo credit given.



Fannie Schiavoni
is a name you may recognize. The London-based accessories designer's steel ring neckpieces and chain dresses are highly coveted and can be worn with anything and everything - or nothing, as demonstrated by Lady Gaga in Q Magazine: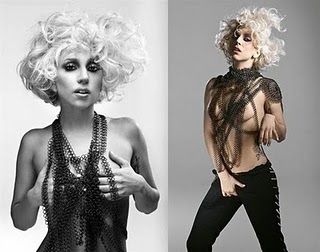 Photo: Q Magazine. Experiment with your own look by layering a few different styles of these exquisite links, available at
notjustalabel.com
.
Angie Johnson
has taken her original harness designs a wild step further for her
Norwegian Wood
for
Shrimpton Couture collections
. This Cape of Chains style is made of leather, deadstock vintage metal perforated buckles, and handbraided jersey finished with lambskin. And it's reversible!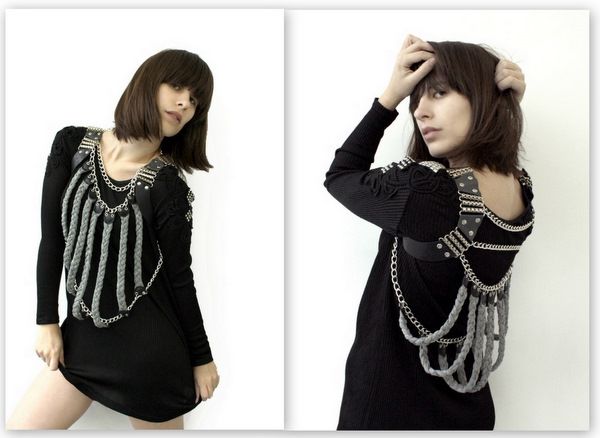 No photo credit given.
Denise Grayson is our Accessories Editor with an impeccable eye for the unusual and unexpected... She also blogs about fashion at
The Swelle Life
.