Steampunk Style
by Denise Grayson
There's a little subculture called
steampunk
that's been growing steadily around us since the eighties, yet it remains largely unseen. This is likely due to the fact that it's not a product of teen-angst or based on a genre of music, and therefore hasn't been exploited for commercial gain. Steampunk is about simultaneously embracing the past, present and future by combining science and technology with the sensibilities of the past -particularly the dress and artefacts from the Victorian era - though inspirations vary with the individual.
Like other subcultures, steampunk manifests its unique point of view in aesthetics, such as lush costumery and the invention of unusual hybrid objects, like a computer with an ornate brass frame monitor and vintage typewriter keys, courtesy of revered steampunk 'maker' Jake von Slatt.
Recently there's been a surge of steampunk accessories, handmade by enthusiasts with a flair for proper craftsmanship and a knack for sussing out things like vintage aviator goggles and old pocket watches to harvest for their hardware and tiny mechanical parts. While the full-on steampunk look is reserved for the true die-hard, anyone can infuse their look with a bit of its charm thanks to innovative designers like
edmdesigns
, who take the antiquated and make it something you've never seen before - and most importantly, something you've likely never imagined.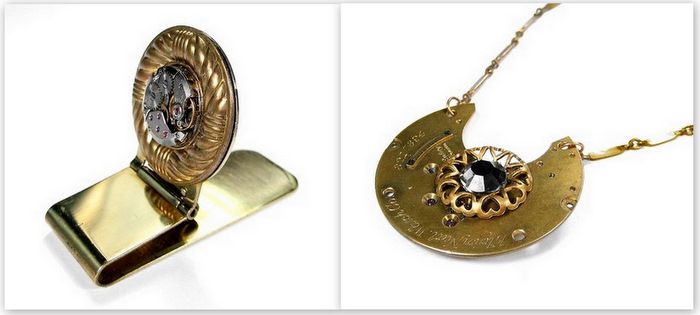 All photos credited to edmdesigns

Denise Grayson is our Accessories Editor and also writes about fashion at
The Swelle Life
.