Marie Antoinette Style
by Denise Grayson
There's something so irresistibly scrumptious about a certain young queen who resided in the French palace at Versailles. It was her opulent, ultra feminine style of dress and her charmed life (for a while at least) that has us so smitten. Sofia Coppola's visually breathtaking film Marie Antoinette played out these fantasy aspects to full effect with the hot pinks, icy blues and soft pastels of the lavish costume design – hot pink was actually introduced in textiles in the 1950s – and sets sprinkled with gilded plates and cake stands heaping with Ladurée macarons and a rainbow selection of pastries.

It's no wonder then that many designers have sought to infuse their creations with the sweet magic à la Marie Antoinette.
The Glamourai recently made a second neckpiece of vintage rhinestone and silver mesh chains with dusty pink silk ribbon for
Shrimpton Couture
, named and styled after France's last queen (above left). It is now sold but we can always hope for a Marie Antoinette Three!
And this Swarovski crystal fan brooch by
Ruby Lane
harks back to the days when a fan was more a tool of coy flirtation than relief from the heat. Works best with a batting of the lashes
.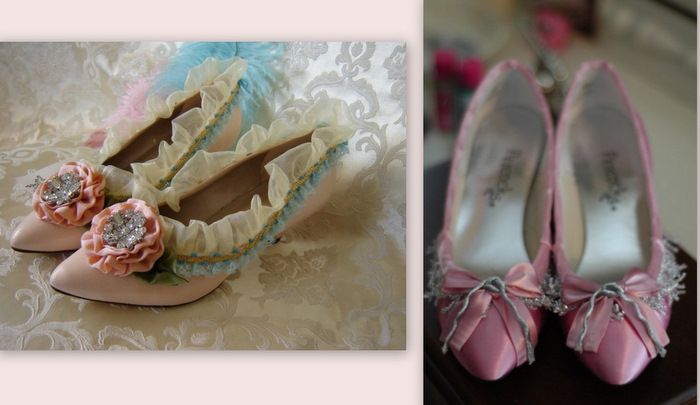 This sweet and sexy knitted lingerie from
Cynthia F
. takes its sorbet hues from Coppola's film. You can see more delicious pieces here.
And one cannot go on about royal women-inspired creations without mentioning Wendy Brandes, the reigning queen of precious metal and gem-adorned tributes to history's most fascinating regal ladies. Her jewelled interpretation of the tragic French monarch is inspired not by her ruffled and powdered accoutrements but rather the unfortunate doom that was to be the unwitting queen's final destiny, as conveyed by the creeping, thorn-like prongs of her unusual and striking amethyst
Marie Antoinette ring
.
All photos credited to respective designer

Denise Grayson is our Accessories Editor and also writes about fashion at The Swelle Life.