A Little Bit of Lace
by Denise Grayson
Lace is a textile that conjures such specific connotations. When I asked my husband what he thinks of when he hears "lace" he quickly offered up "Old ladies or lingerie." Yes, there is that association with doilies and camisoles, and to that we can add Victorian clothing and wedding gowns. Yet lace is so versatile as a fabric or trim, anyone can use it in their dressing and accessorizing as its incarnations, both traditional and experimental, are seemingly endless and always beautiful.
Some artisans work their own lace creations into jewelry, such as
Edera
who uses Old World techniques to weave fine real silver threads like those used in Renaissance and Rococo embroidery with exquisite results: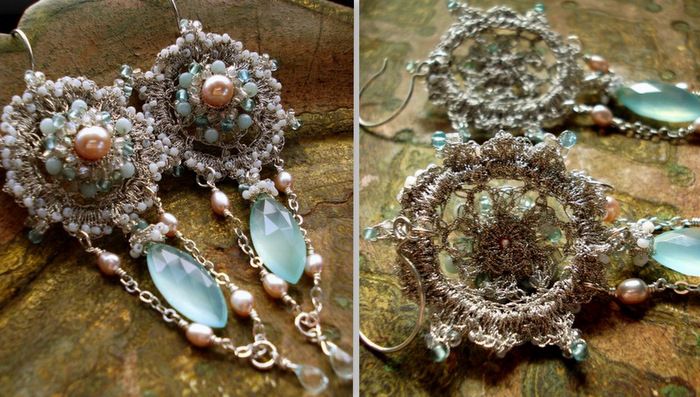 These Duchesse wedding earrings and Lucienne wedding necklace are of handcrafted silver lace adorned with pearls, vintage seed beads and various gems.


White Fly
is a Los Angeles jeweller who casts all of her pieces directly from real vintage lace, ribbon, satin or string into solid sterling silver and gold, preserving the intracies of the fine lace.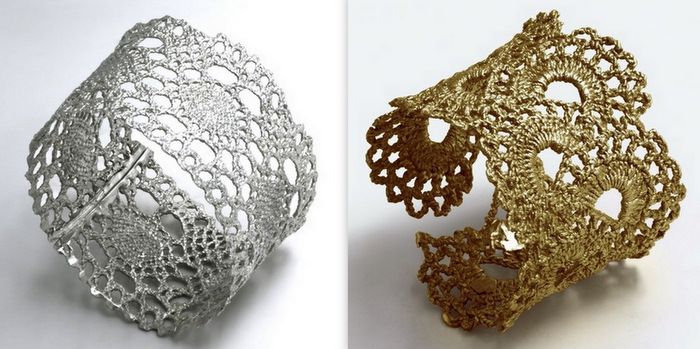 The gold lace cuffs are cast from real vintage lace in sterling silver, then plated with a thick coating of 14K gold.


Noa Sharon Designs
of Tel Aviv, Israel uses metalwork to create a rendering of lace in bubble-like forms, arranged like petals of a flower which are welded together to make bracelets, necklaces and earrings. All fixtures are handmade in sterling silver.
All photos are credited to the respective designer

Denise Grayson is our Accessories Editor and also writes about fashion at
The Swelle Life
.