Camera Bags with Flash
by Denise Grayson
I recently upgraded my camera from a compact digital to a DSLR. As the guy who was helping me began showing me bags, I came to the disappointing realization that the convenience of throwing my little Canon into my handbag without a thought for space, protection, or lenses was gone along with most of my bank balance. I was buying a proper piece of equipment that required tender loving care in the form of a foam compartmented carrier. How sexy does that sound?
The selection of bags consisted of about a dozen black (lack of) styles and there were two that had a flower print in both pink and grey. Those bags – the ones designated for the ladies – resembled oversize lunch coolers. "No thanks, I think I'll shop around" was my response to the offerings. And then I ran out of the store screaming (in my mind at least).
Once home I did a bit of googling and funny enough, when I entered 'camera bags' the list of prompts that came up included 'camera bags for women'. There is indeed demand for a bag with an exterior which belies the fact that there's a Nikon D-90 inside with one or two lenses, a fat wallet bursting with store receipts, a mangled hairbrush, phone, makeup case and hard candies that have fallen out of the wrapper and stuck to the lining. We need something that accommodates all of our essentials and sundries and looks good enough that it may even prompt an unwitting friend to utter "Ooh! Like your bag."
Lucky for us there are some, in a variety of shapes, sizes, and colours. That's great news (or trouble) for the accessories junkie – you can have a whole wardrobe of camera bags!
Jo Totes
bags have six re-adjustable pads, removable cross-body strap and are lined with printed fabrics such as houndstooth.
This messenger from
Janine King Designs
has triple padded corners and bottom and adjustable flap, and comes in a wide range of bold, printed fa
brics.

This medium-size leather bag from
Jill-e
can accommodate a camera with attached lens, a second lens, with extra space inside for sundries plus six external pockets.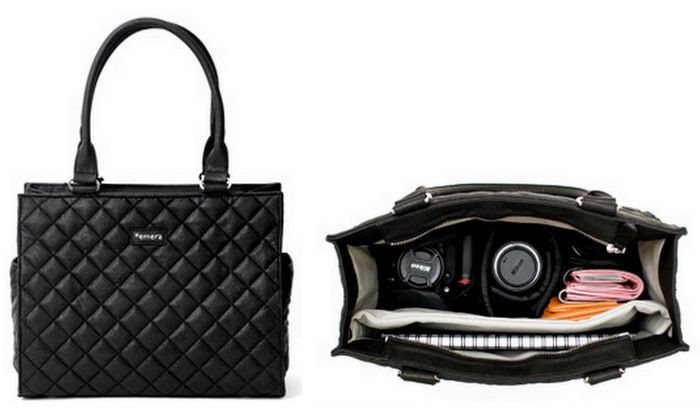 Emera's
'The Quilted' is a classic and chic style with modular Velcro dividers and a large compartment for magazines, notebooks or iPads.Photos credited to the respective websites/designer.
Denise Grayson is our Accessories Editor and also writes about fashion at The Swelle Life.