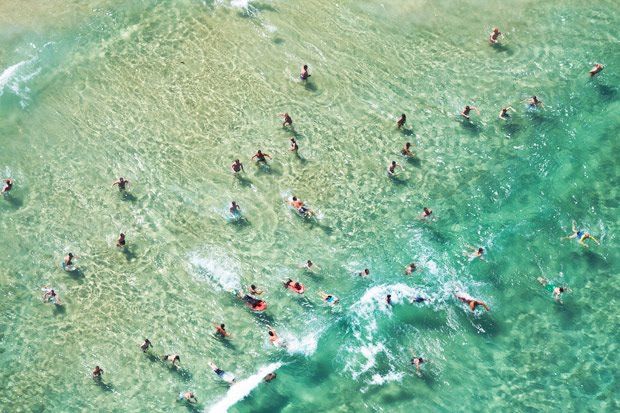 image via Reanna Time (see below)
Hope you are enjoying your Friday! I thought I would try something different for this week's weekend links and give you a little taste of the blogs I have been visiting. Hope you enjoy some notable and quotable writing clips from the blogosphere...
"
Could these photos be Australia's answer to Eamon Mac Mahon's northern arial photography? Perhaps. They also remind me of Carlo Van de Roer's incredible Bondi Bath photos. Seems to me Sydney's beaches make a good muse.
" [
Reanna Time
on Beach Boys, pictured above]
"
Most people mourning his death didn't even really know him. As much as his public persona didn't reflect the real Lee McQueen though, I can only assume the lines must have blurred somehow. His personality did show in his work and anyone who loved what he created, must have loved a part of him.
" [
Haute World
on Alexander McQueen]
"
As fashion industry professionals we have often heard comments dismissing fashion as a career, as a rather less than serious job, akin to a paid hobby. This attitude comes from the misrepresentation by mainstream media that fashion design is just fun sketching and then, poof, the product appears in stores.
" [
39th and Broadway
on The Importance of the Fashion Industry]
"
For the people who know me, they know I can get 'overly-stimulated.' Or a wee bit excited. I was a little bit excited (to say the least) when the Super SelfServiceUK people Carina and Tor invited me to their Tom Binns for Disney Couture event.
" [
SOS! Save Our Shoes
on Alice in Wonderland]
Okay- this one was more outrageous than admirable: "
A homeless man in China has developed an Internet following of thousands who admire his 'good looks' and 'bohemian dress sense,' the Independent reports.
" [
The Cut
on Homeless Man in China Becomes Internet Fashion Icon]
Responses? Thoughts?
P.S. I was recently featured on two of my favorite blogs:
Bits of Beauty
asked me to do a guest blog picking a few things that make my life more beautiful... and
Titans and Co.
featured a picture of me in front of the tents. Thanks, Ethan for calling me a "patron saint of emerging designers" - that made me blush a little.
P.S.2. I feel like I never say Thank You enough to our hardworking editors-- Tamara, our Beauty Editor did two wonderful posts this week on Dream Sequins: feeling purple on
Beauty Beat
and coverage of the
Lauren Merkin event
. Denise, our Accessories Editor, introduced us to the beautiful scarves of Margo Petitti on this week's
Accessorize This
.
P.S.3. The beach photo reminds me of the macro art video montage that the girls from
Anka Papuli
shared with me recently. Check this out-- an artist took about 35,000 photos of New York over the course of a day and then processed them so that they look like a miniature New York in action. Very cool. Happy Friday to you!!