I like to use makeup with sheer coverage during warmer months, and this past week, I decided to test out a mineral foundation starter kit from cult brand
Youngblood Mineral Cosmetics
. If you are new to mineral foundation like I am, you will find this starter kit, which includes generous sample sizes of Mineral Rice Setting Powder, Mineral Foundation in two shades and Crushed Mineral Blush, a Kabuki Brush and easy-to-follow, three step instructions, particularly useful.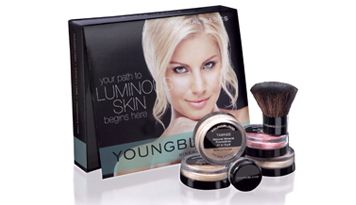 all images courtesy of Youngblood
Step One: Mineral Rice Setting Powder
I started by applying Mineral Rice Setting Powder to prime my moisturized skin. Primer really makes a difference for me when using foundation, and the kit's rice powder had a really pleasant, light texture. The setting powder left a matte but glowing look to my face.
Mineral Rice Setting Powder from the Light Starter Kit
Step Two: Natural Mineral Foundation
Youngblood starter kits come in three different shades: light, medium and dark. I often have difficulty finding a match for my fair Asian skin, but using a blend of the two shades from the light starter kit, I was able to come up with a good natural blend. (One of my pet peeves is women who use foundation that is too fair or dark for their complexion, resulting in a visible shade difference between the face and neck areas.)
To apply the mineral foundation, you are supposed to shake a small amount into the lid and buff the brush in a circular motion, tap to shake off excess and then apply to the face using circular motions. The Kabuki Brush that comes with the kit was adequate, but I can already tell that I am going to have to invest in a full-sized Kabuki Brush to use mineral foundation on an ongoing basis.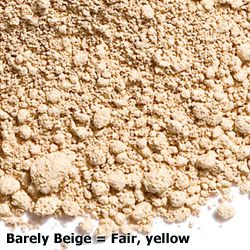 Barely Beige for fair skin with yellow undertones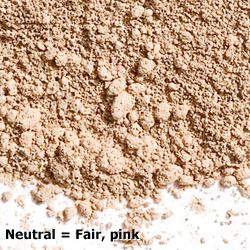 Neutral for skin with pink undertones
Step Three: Crushed Mineral Blush
The Crushed Mineral Blush from the fair starter kit was an intriguing coral and pink color called Sherbert. I applied this color using the Kabuki Brush and blending on the apples of my cheeks and upward. I love using plenty of blush during the day as I find that powder fades quite quickly on my skin, but this blush seemed to last without fading.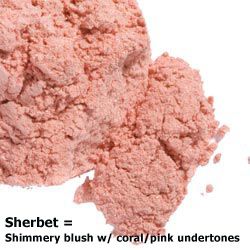 Crushed Mineral Blush in Sherbert
Optional Step: Pressed Mineral Eyeshadow Kit
I could have swiped on a little mascara and lipgloss and taken my glowing skin out for the day, but I was also given the chance to try Youngblood's Pressed Mineral Eyeshadow Quad. When it comes to eyeshadow, I like to keep it simple- either using a neutral, simple wash of color over my lid, or generally, two or three complimentary colors in the cool color family. Since I don't generally use brown or beige colors, I thought it would be fun to test out Youngblood's eyeshadow quad in Gemstones: an array of beige, brown and green colors. The texture of the shadow was absolutely a dream. The formula uses rice powder, and glides smoothly across lids, with or without primer. As for the colors themselves, I think I will experiment more with cocoa browns and neutrals. It's a different flattering look for my brown eyes, and I will definitely put this palette into my daily rotation.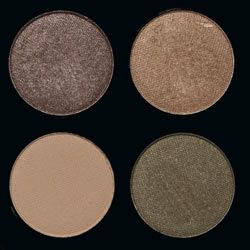 The Final Verdict
While I won't throw away my liquid foundation, especially for a finished, full coverage evening look, I would use Youngblood Mineral Foundation again during the day for a barely-there, but glowing face. The founder of Youngblood, Pauline Youngblood Soli started the line over 10 years ago to provide breathable makeup for people with skin recovering from cosmetic surgery or harsh procedures so I know this product would be great to use, especially during summer months when the prospect of wearing heavy foundation in the hot sun seems daunting and damaging. I'm definitely enamored with the eyeshadow quad and the mineral blush and would definitely repurchase both!
What are your thoughts on mineral foundation or makeup? Do you use any mineral products on a regular basis?
Disclosure: Samples of products mentioned in this post were provided for review purposes.