Last season for New York Fashion Week, I packed my schedule to maximize my trips around town. And this season, despite declaring that I would never do thirty shows/presentations again, I find myself again, optimistically packing the calendar with tons of interesting designers.
Here is a peek at five of the top 10 independent designers whose collections I am most looking forward to seeing in the coming days... In no particular order...
ERRO
Erro S/S '10 presentation
(Note: all images are mine unless otherwise specified)
Tough, black, textured layers made for an intriguing first collection from goth-minded designer Anna Larson. We are looking forward to seeing the second season for
Erro
. The question on our minds: will she splash out with some color or stick to what she loves best?
JEN KAO
Jen Kao S/S '10 looks
source: designer's website
Jen Kao
did lovely bodycon shapes with a mostly nude palette for Spring. We're hoping she turns to a darker mood for Fall and brings back those long, sequin gowns she perfected for F/W '09!
CREATURES OF THE WIND
Creatures of the Wind F/W '10 preview
source: courtesy of the designers
It's no secret that we are big fans of the Chicago-based label,
Creatures of the Wind
. Last season, for their debut presentation at New York Fashion Week, the designers turned to girlish inspirations, injecting dresses with deep pink hues and using bespoke accessories from a Japanese designer. The designers sent over some preview pictures for this season, and it's looking darker and more polished.
RACHEL ANTONOFF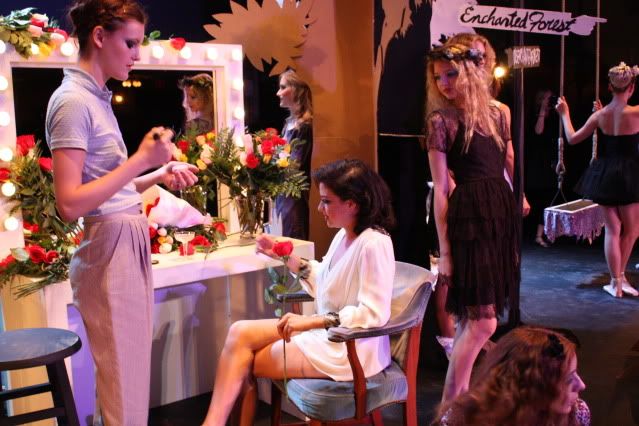 Rachel Antonoff S/S '10 Presentation
The
Rachel Antonoff
girl is unapologetically feminine. She's not afraid to take to the stage in tutu or vintage-inspired floral dresses. And that's exactly what took place for last season's adorable theater-set presentation for the New York-based designer. We're looking forward to seeing how she tops the presentation this season...
PREEN
Preen S/S '10 Runway
The London design duo behind
Preen
have been perfecting the bodycon dresses that have become synonymous with their name for some time now, but last season was a breath of fresh air-- using tiny ruffled details on structured pieces, Spring was romantic and avant-garde at the same time. We're looking forward to their outlook for Fall...
What do you think of these designers? Stay tuned for Part 2 tomorrow... Hope you are having a swell start of the week...