I sent my friend, Audrey, a lover of casual-chic clothing to cover
Popomomo's
Fall/Winter 2010 collection at
The GreenShows
. It's no secret that we are big fans of the eco-friendly Los Angeles label, and
covered their collection last season at LA Fashion Week
. In our opinion, this is Popomomo's strongest collection to date. Expect to see more great, wearable pieces from this emerging label...
all images courtesy of the designer
Popomomo Fall/Winter 2010
by Audrey

According to the program notes, Popomomo's F/W/ '10 collection, entitled "City of Quartz" was "inspired by the literal idea of a cold, beautiful city and the book of the same name about Los Angeles by Mike Davis."

I wasn't sure what to expect at the runway show for emerging label Popomomo (which stands for "post-post modern movement"), during The GreenShows at New York Fashion Week. What I really loved about the pieces was that they were all made out of soft, breathable fabrics which also happen to be eco-friendly. Standouts for me include a black hemp/organic cotton fleece intersection dress with a steel satellite scarf and grey oxford dress with ladder detail in the back with purple jewel accent. Throughout the collection, muted colors were paired with bright teal, emerald, purple and blue colors.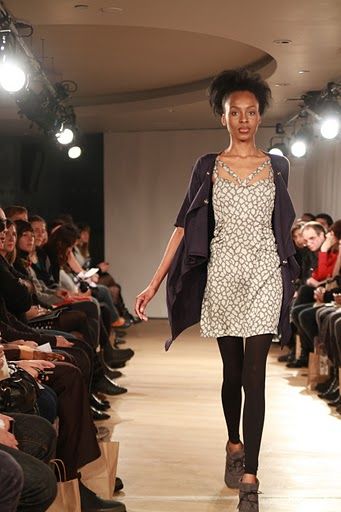 Although this is Popomomo's Fall/Winter collection, it is definitely clothing suitable for warmer climates, which makes sense since designer
Lizz Wasserman
is based in Los Angeles. Being a LA girl myself, I've decided that I want every piece of the collection in my closet.
What do you think of this collection? What is your favorite look?