Today's Beauty Beat from our Beauty Editor, Tamara examines some looks from the frontlines of her very first New York Fashion Week... I promise to come back with Fashion Week coverage when I'm not completely zoned out from all these shows. Today is the day of the
IFB
Conference and I'm super excited about helping Jennine with video coverage.
NYFW Beauty Tidbits

by Tamara
Fashion Week has been a whirlwind and I love it! Running in and out of shows certainly wears me out – I crash when I get home. But seeing all the creativity from the designers, plus the hair and the makeup is definitely worth it. I need to find a solution for this Fashion Week diet, which I've found out, consists of white wine, mojitos and cookies. I think I'll start packing apples and nuts in my handbag!
I've had the pleasure of attending Yuna Yang, Keith Lissner, Jen Kao, Frank Tell and Jeremy Laing's shows and presentations, and I was amazed at how each designer played with the makeup and hair portions of their collections. Some designers showcased a neutral, barely there makeup, a departure from the traditional darker colors normally associated with Fall. Others incorporated rich colors in the makeup, especially on the lips. Here is my quick rundown on the looks:
Yuna Yang F/W 2010: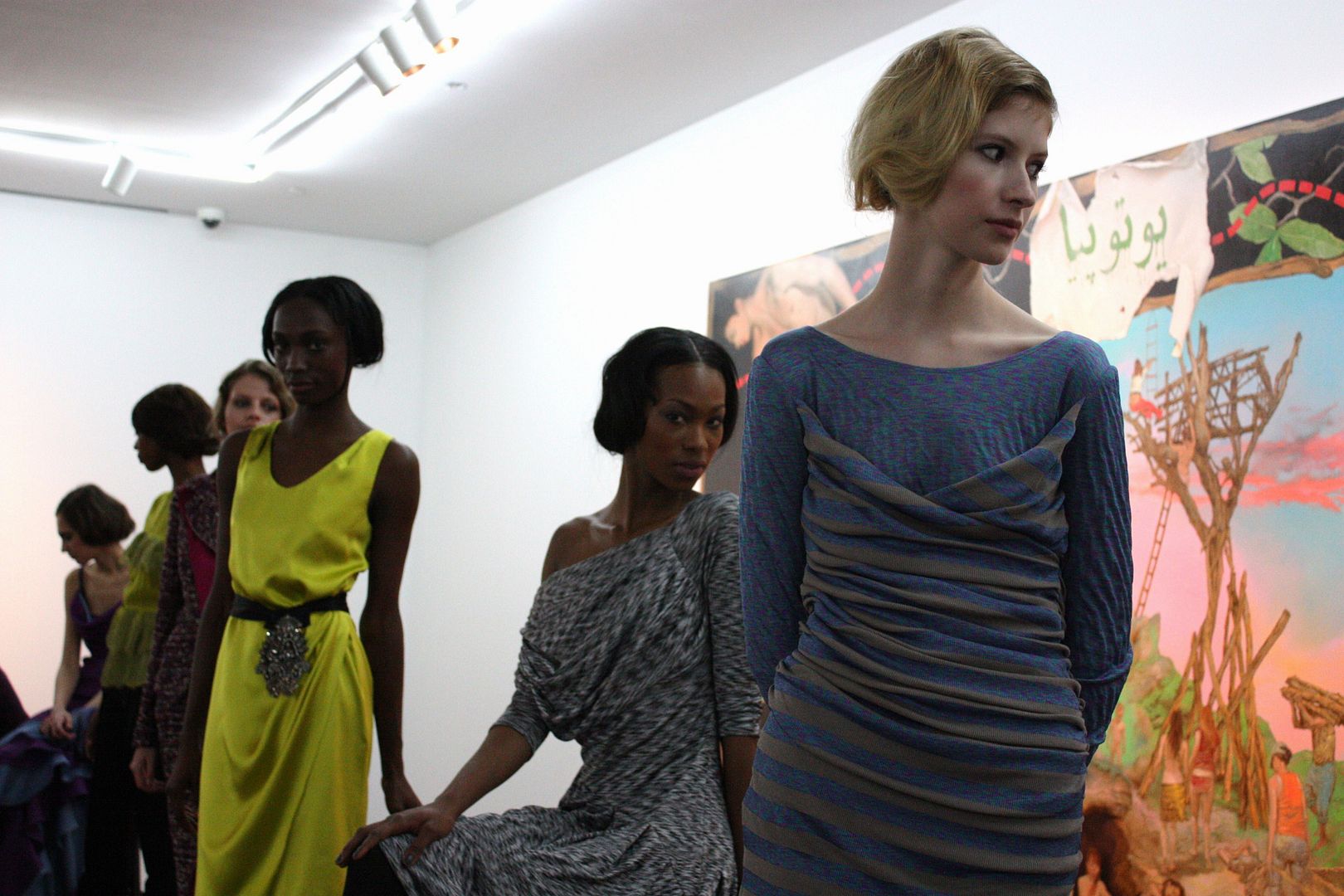 At
Yuna Yang
, the models had soft curls, parted sideways, and pinned under to create faux bobs, mimicking the finger curls women wore in the roaring 20's. The makeup was very romantic, consisting of a natural rose tint on the lips and flushed pink cheeks. The eyes were dramatic but not heavy -smudged brown eyeliner on the lower lash line and a defined brow.
Keith Lissner F/W 2010:
This makeup look was by far my favorite.
Keith Lissner
threw the makeup rules out the window, by playing both a dramatic eye and a dark lip. The look was rich, heavy but classy with a blood red, glossy lip and an indigo/navy blue smoky eye with silver glitter patted on the lids. The smoky eye is alive and well. The hair was tousled and big. I was in heaven!
Jen Kao F/W 2010: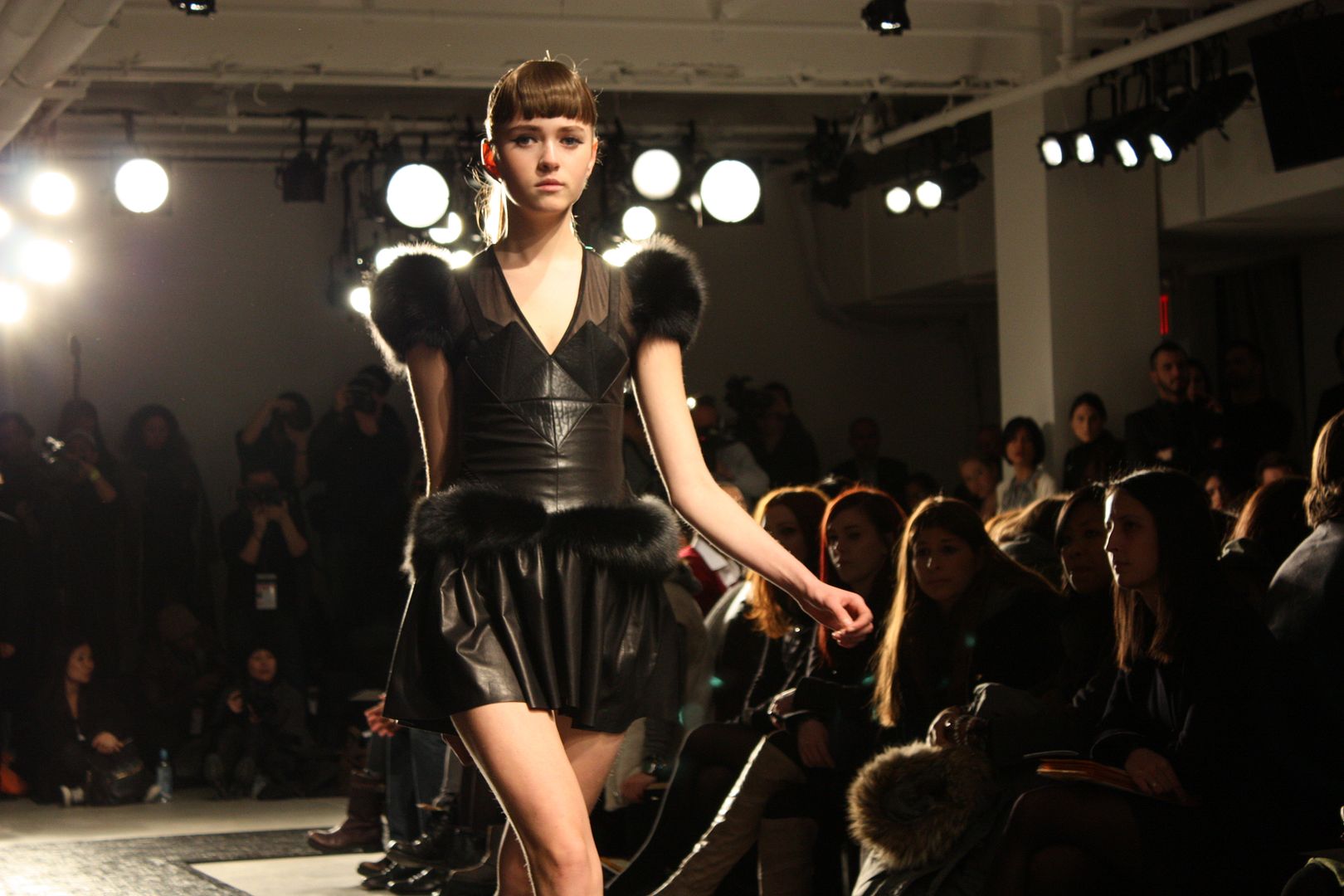 I felt a combination of nude and somewhat futuristic with
Jen Kao's
collection. The hair consisted of sleek ponytails with a blunt fringe. The makeup look was almost a no-makeup makeup, with a very strong brow and a cat eye. This will get you out the door in no time!
Frank Tell F/W 2010:
Despite my vertical challenge, I was able to catch a glimpse of
Frank Tell's
hair and makeup look in his presentation. On the hair front, it was simple: parted in the middle, sleekly pulled back. Half of the models had a wash of ice blue eye shadow all over the eye, while others had a nude eye with a teal liner that traced the lid and winged out a bit. The latter was certainly a strange look, and I truly hope it is not a trend. The ice blue eye shadow may be hard to pull off, although if your skin has cool undertones, you might want to give the look a try. The face was nude with a bit of highlighter on the cheeks, accompanied by a natural lip. Think of just applying Rosebud Salve on them.
Jeremy Laing FW 2010:
At
Jeremy Laing
, the hair consisted of a messy ponytail. The face was natural, consisting of flushed cheeks and a natural rosy lip. This is another makeup look representing a departure from the traditional Fall makeup. The eye look had me seeing red – really. It consisted of a nude eye, completely rimmed in red eyeliner. To be honest, this made the models look tired; one of them looked like she was about to cry. I am pretty sure it was the effect of the eyeliner, not flattering at all. This will be a trend I skip.
So far, I feel confident the trend of the dark, rich lip continues, in the form of blood reds. As far as the eyes, take your pick: nude or smoky. Last season, purple was a huge color for smoky eyes. This season, I am singing the blues. Top them with silver glitter and we have a winning combo for the makeup obsessed like me.
What do you think? What trends have you seen so far?
Tamara is our Beauty Editor and writes about beauty and fashion at Brunette and Pink. It's her first time attending shows at New York Fashion Week and we couldn't be more excited for her!