No Fashion Victim Here

by Denise Grayson
Last weekend I spent a wonderful afternoon with
Mei Hui Liu
at the east London studio for
Victim
, her 10 year-old label of one-off dresses, skirts, tops and accessories. From the moment she opened the door to greet me – living up to her designation in a fitted and flattering black and white wrap dress and a killer pair of rubber knee-high platform boots – we became engaged in an enthralling conversation about fashion that lasted nearly two hours. By that time I felt like I had known Mei Hui forever, and for the next hour or so she sat at her machine sewing some Victorian lace onto a top while I tried on some of her deliciously romantic dresses with the incredible boots and shoes she showed me that were made by her friend, London shoe designer and maker
Natacha Marro
.
Natacha Marro hand makes all of her shoes in her London studio. Her designs are regularly requested for fashion week shows and by a clientele that includes Daphne Guinness and David Bowie - yet anyone can request a bespoke pair at her online shop!
Mei Hui told me to forget about how uncomfortable they look and to try them on so I could see for myself just how good they feel. They are super high – a red leather Mary Jane had to be 7 inches - but there is a substantial platform and a lot of thick padding under the insole which actually did make them feel easy to wear, once you've trained yourself to walk in them - if you're not used to a heel quite so steep, which I admit I am certainly not. (But I wish I were.) There's a distinct, measurable difference in the feel, fit and look of a handmade shoe and I'm afraid should I indulge just once in a custom pair I may never be able to go back.
I was really keen to see the Victim accessories that are made from the same antique Victorian trims that adorn the dresses I'd seen in her studio and in the runway photos – Mei Hui showed her collections for 10 years then decided last year she no longer needed to – but I'd just missed them by a day or so. Every piece that had been in the studio was now in Barcelona so I wasn't able to see them in person, but there are plenty of pictures that convey Mei Hui's novel way of making romantic play a bit dirty. With her neckpieces she takes aesthetically refined elements like the laces and pearls and buttons and through her arrangements removes the preciousness, but adds a playful quality that anyone with a sense of adventure can appreciate.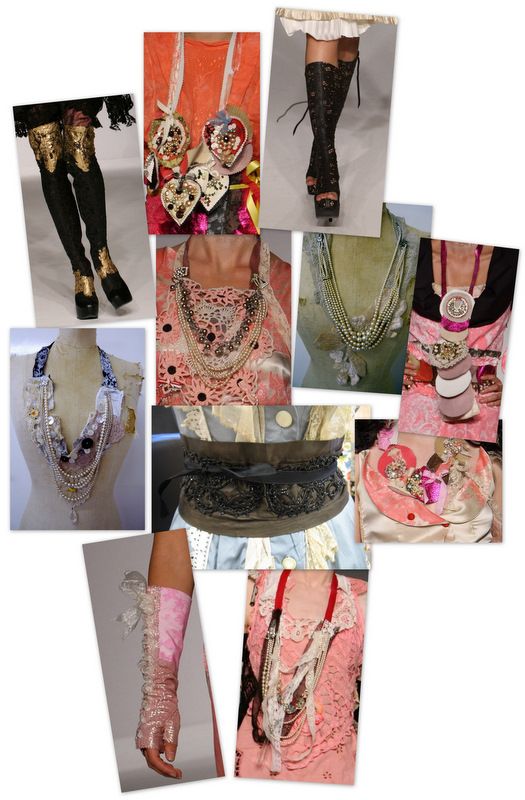 If you haven't figured it out by now, all of the pieces, including the one-off garments, are created from beginning to end in that east London studio. How refreshing is that?
Denise is our Accessories Editor. You can read more about Mei Hui and the fascinating story of how she built her fashion label at Denise's blog,
The Swelle Life
.

**Reminder! You have until 11:59 pm NYC time to enter our giveaway of Purple Lab NYC lip gloss (for plump lips, not hips) and two tickets to the Gen Art fashion show at NY Fashion Week!**