And now for a long overdue outfit post!
Eyeliah
challenged her blogger buddies to send a photo of themselves in party gear for her virtual birthday party, and I thought this vintage-inspired dress was a good fit for the occasion.
Above
:
White printed shirtdress by
Club Monaco
,
wannabe Comme des Garcons polka-dot cashmere scarf by Club Monaco,
silver metallic leggings by
Kaylee Tankus
,
satin ballet inspired heels by
Chanel
(I mentioned them in my
Shoe and Tell video post
) and
glasses by Gucci (they're an older model, and I'm way overdue for a new prescription).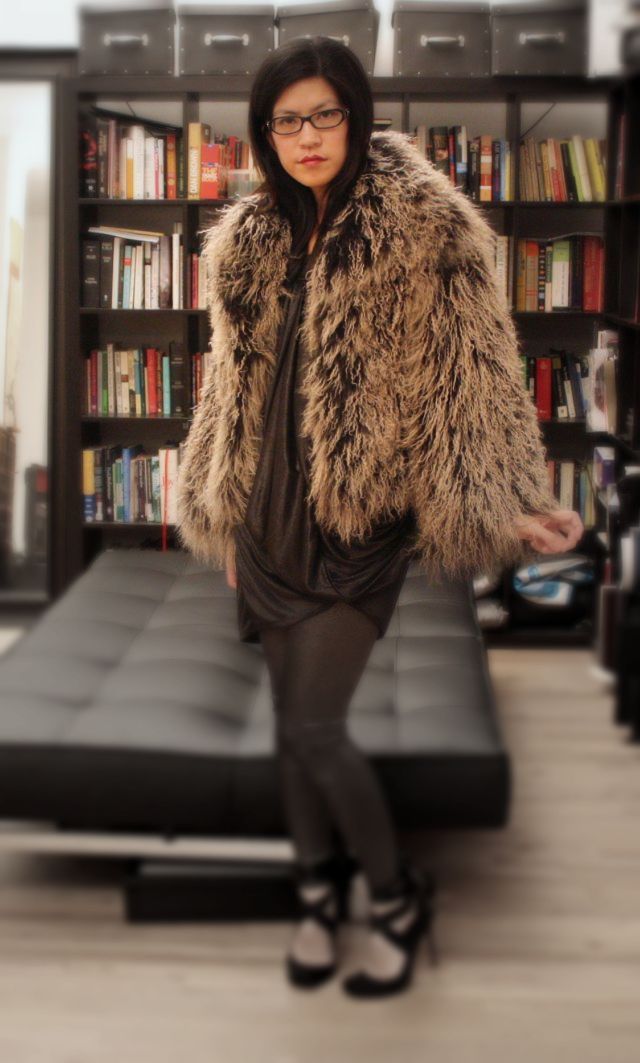 Above:
Grey-tipped Mongolian jacket by
Topshop
metallic silver tunic from Hong Kong market
leggings by Kaylee Tankus
shoes by Chanel
I originally purchased the fur jacket as an antidote to the cold spell we have been experiencing in New York - it's just been so unbearable! When the temperatures dipped even further this month, I decided to hit the department store and buy myself a REAL winter coat. A utilitarian puffer that didn't make me look like a total dork.
Down coats are not very fashionable, but this one reminded me of a giant pillow or sleeping bag, and the price was right.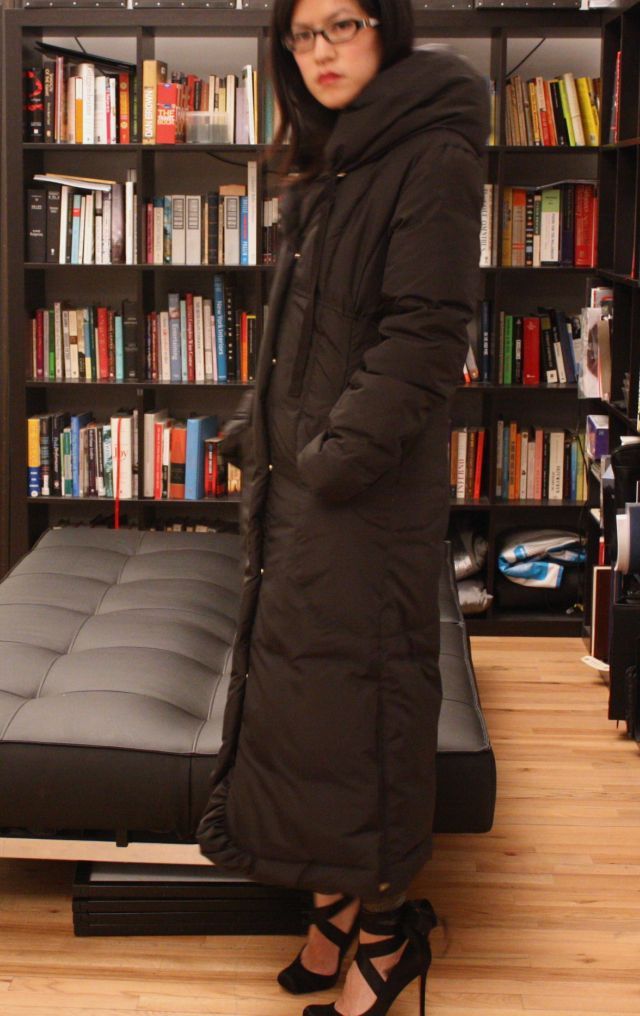 Above:
Black pillow down coat by Tahari
Shoes by Chanel
Since I took these photos in our office/library space of our apartment, I thought I would share some tighter shots of the ecclectic collection on our bookshelves. The most shocking part of marriage for me was the commingling of our book collection. The Mr. is partial to nonfiction and business titles, and I invest in equal parts literary fiction and chick lit. Can you guess which shelf is "his" and which is "hers"??