I am excited to introduce the first Beauty Beat post by our new Beauty Editor, Tamara. She will be contributing beauty reviews, tutorials and other goodies to the blog. Please join me in welcoming her to Dream Sequins! I would love to hear your feedback about this blog post, as well as suggestions for future Beauty Beat posts. What would you like to see?
The Best Beauty Advice I Ever Received
by Tamara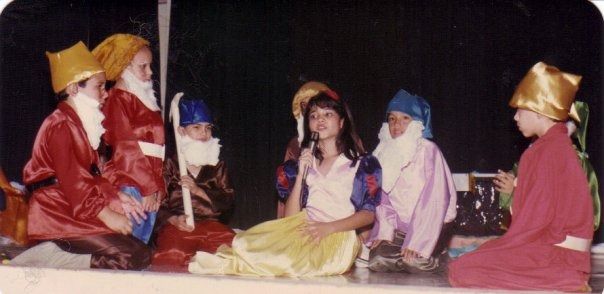 Photo courtesy of our new Beauty Editor, who was born to be a star!

My mother is the oldest of four kids, and at 24, she found herself working full-time and raising a 3 year-old daughter on her own. After Mom's divorce, we moved in with my grandparents in a very cramped apartment in
Guayaquil
, Ecuador. In addition to my grandparents, my 21-year old aunt, and 18- and 12-year old uncles lived with us. As a flight attendant for a local airline, my aunt traveled to New York just about every week. My aunt was a huge makeup lover, and that's how my own affair with makeup began.
One day, my aunt unpacked a baby blue plastic box with the word "Bloomingdales" written in gold letters. (Back then,
Bloomingdales
used to do huge makeup kit palettes under their private label.) When I saw this box for the first time, I thought it was the most wonderful thing: a rainbow of eyeshadows, blushes, eye liners, lip liners, lipsticks, little brushes, and a mirror. I was enamored with it and wanted to grow up so fast so that I could put all that on my face and be just like my aunt.
I was sneaky, so I didn't have to wait until I grew up to play with it. I managed to find the baby blue box and painted my face with it while my aunt was working. It didn't take very long until she noticed huge dents in the pans. I was scolded and the Bloomingdales makeup palette was placed under lock and key.
With my aunt's travels,
Vogue
and
Cosmo
came back with her. I fell in love with the pictures, outfits and how beautiful women in these magazines looked. I couldn't wait to grow up and look just like them. At the time, no one fascinated me more than Brooke Shields did in her Calvin Klein ads. I was convinced I was going to look just like her when I grew up. Why? Because my dad used to tell me that I had gorgeous thick eyebrows just like Brooke Shields! My dad wouldn't lie to me.
It didn't take long to realize that none of that was true, and that while my dad had the best intentions, looking like Brooke Shields was never going to happen. Insecurities replaced dreams, which achieved gigantic proportion as I navigated through my awkward tweens and early teens. The icing on the cake of insecurities? Ecuadorean men's obsession with fair skinned, blonde, blue-eyed women. I wasn't one of them, and I felt hopeless. In spite of this, my love for makeup and the pursuit of beauty were as strong as the very first day I opened my aunt's Bloomingdales palette.
I devoured Seventeen, Vogue and Cosmo. However, I slowly started to discover an angle of beauty I hadn't considered: my own. I focused my energy on trying makeup products and techniques that work for me. I started to obsess less about looking like some movie star, and focus more on what works best for my round-as-the-moon face. I learned to love the thickness of my brows. I realized having high cheek bones was a good thing, and that having brown eyes wasn't that bad, because brown is neutral and can take on just about any eyeshadow. I realized that having black hair was as beautiful as blonde hair and finally began loving me for me.
I love recreating celebrity makeup looks - hey, who doesn't dream of having Penelope Cruz's eyes? But at the end of the day, none of this matters. The best beauty advice I ever received didn't come from magazines, or from anyone else for that matter. It came from the realization that I cannot look like anyone else but me. Being confident in myself is the best beauty tool in my kit.
P.S. Oh yeah, and my Texan husband loves his brunette. WOOT!
Tamara is our new Beauty Editor and writes about beauty and style on her blog, Brunette and Pink.