Let's Go to Cha-Cha's House

by Denise Grayson
Ask and you shall receive. There were requests for a focus on hats in the comments section of
my inaugural post
last week and on
Twitter
(thank you for the suggestions!) and I am only too happy to oblige on this particular subject.
As I previously mentioned, I love hats. I am most certainly a "hat person" and wear them with ease for reasons ranging from style, warmth and covering hideous bed head while running breathlessly out the door to do the school run. It's great when people see you as super stylish when really your motivation for what you're wearing is largely to hide the evidence that you left the house without showering! That's a winning combination.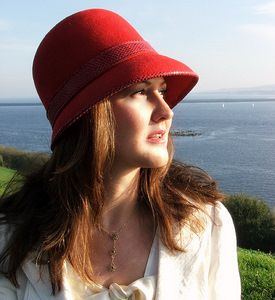 Me in my beloved Cha-Cha's red felt cloche. This was taken two years ago for a local magazine, so although I still love my Nanette Lepore jacket and top, I would most certainly style this differently now! I guess I'll just have to prove it...
There are many talented milliners taking their craft to beautiful new levels and I decided to focus on one that I know well because I own a few of her hats. I introduce to you
Cha-Cha's House of Ill Repute
. If that name doesn't stick in your head you may want to visit a neurologist. Cha-Cha's is a New York millinery label run by designer and milliner
Dina Pisani
. Dina has a distinctive style that is more gritty than pretty (though my choices from her collection tend to gravitate toward the prettier ones). While she can create a perfectly structured cloche or fedora on her vintage and specially designed blocks, her signature technique is deconstruction; asymmetric and slouchy, in dark shades and rich fabrics for easy chic. Dina works mainly in fine felts and straw and offers unique shapes in wool, velvet and snakeskin.
I love a traditional hat but the fun of Cha-Cha's is the influence of the 1920s and 30s Old World techniques and styling mixed with Dina's unique vision. And the trims are special. She scours the markets for her vintage and antique ribbon and feathers, the latter which featured heavily in her Spring 2009 collection. Brims are typically piped with lambskin and her adornments cater to the skull and pirate loving set, in the form of crests and trinkets.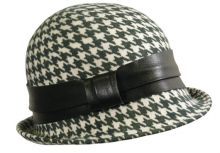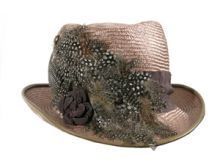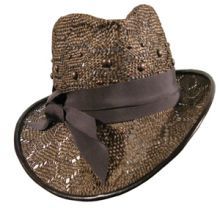 It's no surprise that hats have been a huge trend these past few years and as such hers have been seen on Justin Timberlake, Rihanna, Alicia Keyes and Britney Spears (that was in the Madonna pal years, before she began making dubious fashion choices), and they've been used to style dozens of magazine editorial and cover shoots all over the world.
None of that really matters to me. A great hat is a great hat. And
Cha-Cha's House of Ill Repute
is in the club. If you're in New York you can visit Cha-Cha's in Dumbo at 68 Jay Street, Suite 312, Brooklyn, New York.
Denise Grayson is our hat-lovin' Accessories Editor and also writes about dreamy fashion at The Swelle Life.