Today's guest post comes courtesy of Miss Glitzy from
Miss Glitzy's Monologue
, who dazzles us with some of her favorite finds from Singapore designers. I loved her picks, as I am not familiar with these brands....
Name:
Miss Glitzy
Describe yourself and your blog:
Miss Glitzy is a corporate slave from Singapore who enjoys good food, dressing up and trashy magazines. Miss Glitzy's Monologue is a lifestyle blog targeting women who enjoy quality and wholesome living. Join Miss Glitzy in her discovery for fun, food and fashion!
Gifts for me...
Under $100: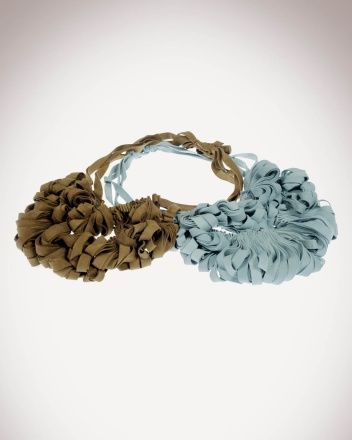 Alldressup Chelone ruffled petal necklace
. Alldressedup is a Singaporean label, known for its unique, sophisticated and innovative designs. The Chelone is an interesting statement accessory that is made from nubuck by hand! Not only does it jazz up the outfit, it serves as a good conversation starter at parties!
$100-$499:
Tong Tong Cheongsame Dress
. Tong Tong Friendship Store, also from Singapore, designs and sells quirky and modern adaptations of the Chinese traditional cheongsams. This cheongsam dress is bright and cheery. While it retains the traditional Mandarin collars, the dress is modified with a flare skirt that flatters most body shapes. Each dress costs between US$150-450.
$500+:
Kwanpen leather bag
. Kwanpen is one of the pioneer Singaporean brands that manufacture high quality croc leather bags. Each leather bag costs 1000-6000USD.
Thanks for your gorgeous finds, Miss Glitzy! I just finished some shopping online today... and I'm hoping to hit some stores in person tomorrow... In personal news: my little sister just got engaged! I'm very excited to spend time with her and her fiance, as well as with family, back in LA... Tomorrow, I share with you some of my holiday gift wishes...