Cocktail frilly looks by
Fabiola Arias
Hope you are enjoying your weekend. Thank you for your amazing comments in response to
yesterday's post about my five year wedding anniversary
. When I started this blog, I was shy about posting pictures of myself but the longer I've been blogging, the more I realize how personal this space has become.
While the Mr. and I travel through Thailand for the next two weeks, I have some amazing guest bloggers lined up starting Monday. I'm blessed to know these amazing ladies and their guest posts are crazy good. While my visits to your blogs may be light while I am on vacation (the Mr. and I will be fighting over his tiny travel laptop), please watch this space for hot, fresh guest posts! Tomorrow, I will be posting some amazing reports from LA Fashion Week penned by two stylish writers... Have a fabulous weekend and enjoy these weekend links!
READ
Speaking of
LA Fashion Week
, our friends at
Blackburn and Sweetzer
are killing it with their insider scoop. Head there now and live vicariously through their front row coverage.
Just in time for Halloween costume ideas,
Wicked Halo
posts an artist's renderings of Frankenstein and family as Old Master paintings.
The Coveted
says you don't have to be a plus sized woman to be "real."
Haute Shopper
is back in Paris with a post laden with food and shopping pictures from a recent trip to Tunisia. Amazing report.
Enter to win a gorgeous wire lace bouquet pendant from gem artist and blogger
flaurena
.
SEE/DO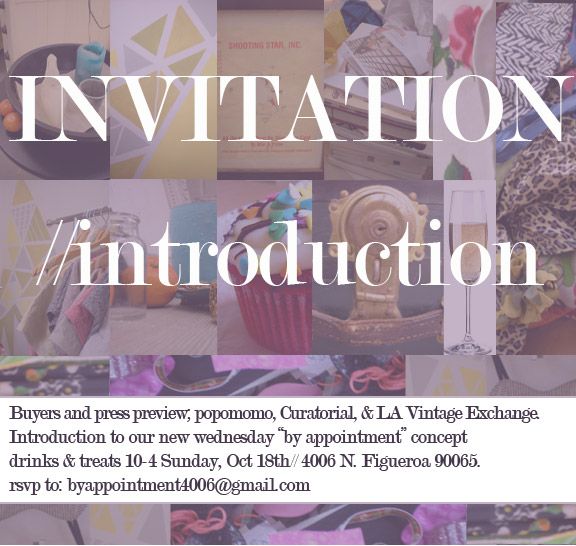 If you are in LA, you are cordially invited to preview "
By Appointment
," the open studio concept of
Popomomo
and
LA Vintage Exchange
with champagne and treats for buyers and press this Sunday 10/18 (10 am - 4 pm). Every Wednesday after that from 1 - 7 pm, the studio will be open to shoppers. Sounds like a neat concept! 4006 N. Figueroa, Los Angeles. RSVP: byappointment4006@gmail.com.
Why do amazing events pop up just as I'm about to leave town on vacation??
This weekend in New York,
David Yurman
is hosting a shopping event to support
The Breast Cancer Research Foundation
. Save an additional 20% off already reduced prices on jewelry and accessories. Saturday 10/17 (10 am - 7 pm) and Sunday 10/18 (11 am - 5 pm). The Altman Building, 135 West 18th Street.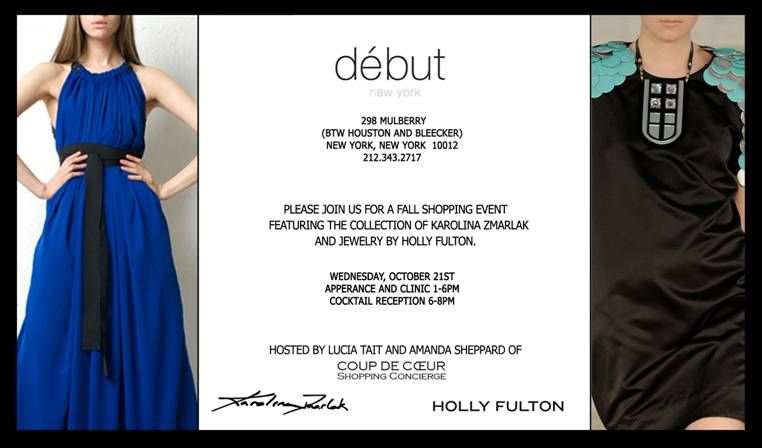 Debut
is hosting two amazing shopping events this coming week. On Tuesday 10/20, emerging designer
Fabiola Arias
(whose cocktail looks are featured above) will be hosting a trunkshow with cocktails from 5 - 7 pm. On Wednesday 10/21, Coup de Coeur will be hosting a fall shopping event (invitation above) for womenswear designer
Karolina Zmarlak
and jewelry designer
Holly Fulton
, with an appearance and clinic from 1- 6 pm and cocktail reception from 6 -8 pm. 298 Mulberry Street.
Rock-N-Shop
pop-up shop will be presenting a "hybrid shopping and rock-n-roll experience" next weekend with live performances by acts such as A Fragile Tomorrow, Audio Fiction and Paper Doll. Participating brands include 25Park, By Malene Birger, Elizabeth & James, Gryphon, Kain, Lewis Cho, Pink Tartan and Siwy Denim. VIP shopping on Friday 10/23 (6 -9 pm; RSVP:
info@gracegroup.biz) and open to the public on Saturday 10/24 (12 - 7 pm) and Sunday 10/25 (12-7 pm). Openhouse, 201 Mulberry Street.
The
Arts of Fashion Foundation
will be hosting its eighth annual Symposium at
Drexel University
in Philadelphia, a five day global event bringing together young designers, professionals, academics, critics and retailers starting Saturday 10/24. The Symposium will kick off with four day master classes taught by noted designers. Imagine working on textiles with former designers from the Maison Martin Margiela or studying womenswear with Christian Wijnants and Tom Van Dorpe... The event will also feature panels on fashion copyright issues and fashion media and an exciting international fashion student competition, with 60 students vying for nine scholarship and internship opportunities. Check out
the website for further details and the full schedule
.
Prepare your wallets for a multi-designer sample sale featuring the designs of
Zang Toi
,
Sally + Andrew Brunger
,
Wendy Brandes
and
Caroline Cameron
(invitation above). Friday 10/23 (5-8 pm) and Saturday 10/24 (12 - 6 pm). Designers offering discount of 30-80% off retail + samples and Bo Concept offering up to 80% off all accessories. Bo Concept, 105 Madison Avenue.