Happy Friday, everyone! By now, the Mr. and I are enjoying our last full day in Bangkok, Thailand. While I'm out on vacation, here's another delicious guest post for you. I've always admired the amazing personal style of Kelsey from
The Anthology
and for today's Vintage DIY post, she shows us how to take something from "frumpy to funky." Watch!
Vintage DIY: Frumpy to Funky
Text and Photos by Kelsey of The Anthology
I've often thought the frumpier the vintage dress, the funkier its potential.
I see it as a challenge, of sorts.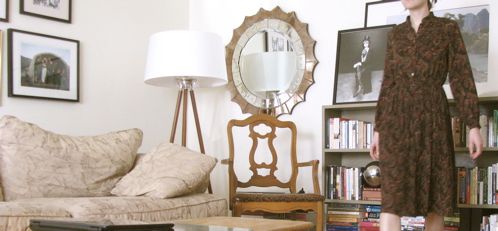 Take this little ditty, which I bet looks just like the outfits your Great Aunt Ethel wore on Sundays.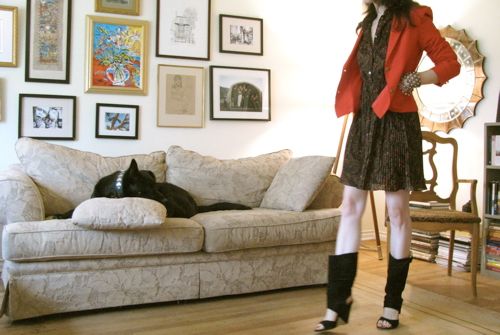 Shorten the hem, undo a few buttons, wear it with boots that would make Ethel lose her lunch, et voila.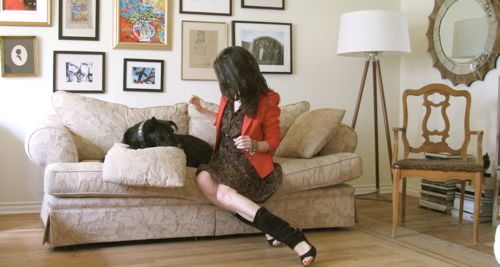 You've funked the frumpiness right out of the dress.

Thanks, Kelsey! Keep it simple-- that's my kind of DIY. :) Ladies and gentlemen, you need to visit her stylish blog right away if you haven't taken a peek yet:
http://the-anthology.com
.
**Readers: I have a week of vacation left in Thailand, but that doesn't mean the guest posts stop here. Check out the full schedule of guest posts on the left sidebar. Tomorrow, look for an inspired personal style post from the lovely
Sterling Style
. Happy weekend and thanks for reading!**