While I am on vacation, you are in good hands with this guest post by my beautiful blogger friend,
Brigadeiro
, who has exquisite taste in clothing and accessories. Here, she introduces us to an up-and-coming London-based accessories designer,
Fannie Schiavoni
. Hope you are enjoying your week so far!
Designer Profile: Fannie Schiavoni

Text by Brigadeiro
With an ever-increasing waistline, most items on my current wishlist are accessories. I am a huge fan of accessories, as they can add so much to an outfit, changing a look completely. So versatile...and most of the time, it should not matter what size you are.
Ever since
Susie Bubble
first posted about Fannie Schiavoni
, I fell hard for her pieces. This love deepened when I saw the Chain Dress:
Having corresponded with Fannie, I still have not decided which piece to purchase, as I love so many! To make matters more complicated, she recently released a new Lookbook, and the Shoulder Padded Piece and stunning Cleopatra Necklace have me drooling: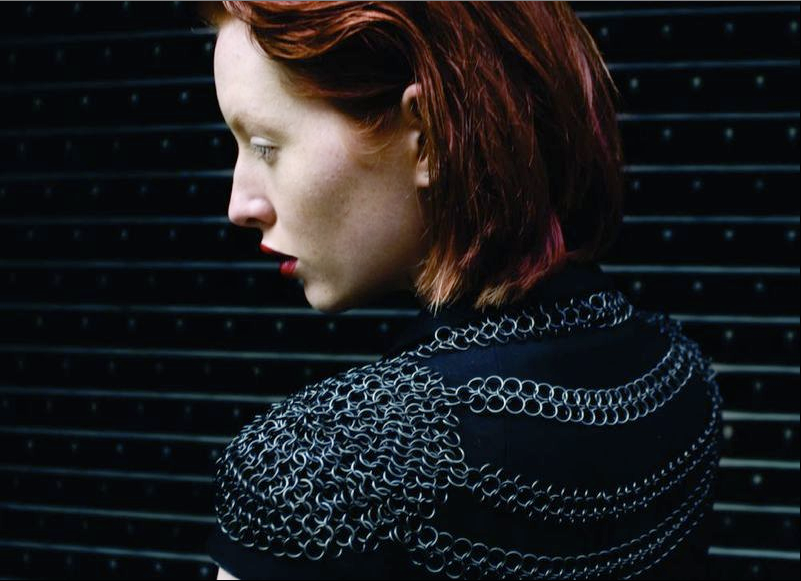 All pieces in the collection are designed and hand crafted, ring by ring, by Swedish-born Fannie, in her studio in London. The pieces are very versatile, as they can be layered and worn in a multitude of different ways, thus allowing an abundance of looks from a single accessory. I am also seriously considering this Back & Front necklace:
You can currently find some of her pieces on
Not Just a Label
and
Kabiri
. For more information, check out the designer's website at
http://fannieschiavoni.com
.
Thanks for the wonderful profile,
Brigadeiro
! If you haven't checked out her blog, I would recommend heading there right away. I love her personal style.
**Readers: Thank you for visiting the blog while I'm away on vacation. Aren't these guest posts wonderful? Check out the full schedule of guest posts on the left sidebar. Tomorrow: an amazing vintage DIY post with stylish blogger The Anthology. Stay tuned!**