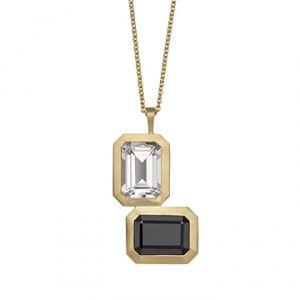 Wendy Brandes "Clemence" necklace
= amazing
All photos courtesy of Wendy Brandes Jewelry blog
We're still on vacation in Thailand and I have a great group of guest posts scheduled for this week. Here's a fine way to start your Monday: a Behind the Blog feature with the gorgeous
Wendy Brandes
, jewelry designer and blogger with a unique sense of style and wit. I am sure most of you are already fans of her blog, which she began to promote her namesake jewelry line, but if you haven't, I urge you to check it out right away. Read on to learn more about her...
Five Questions for My Favorite Bloggers
Who are you?
I'm Wendy Brandes, but since you say I can use a pseudonym, description or other creative answer, I'm going to ask that your readers call me "Wendy Brandes, Mistress of Pain."


Where are you?
On a bed that is covered with leopard-print sheets. Really! The bed is based in New York.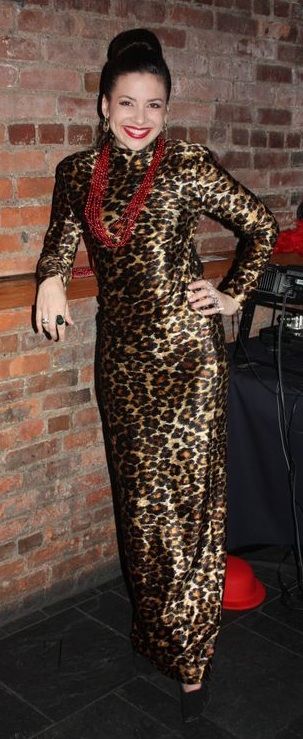 The lady has a thing for leopard-print ;)
What is the concept behind your blog?
I started
my Wendy Brandes Jewelry blog
to promote
my jewelry
, but I thought non-stop promotion would be too boring to read regularly. So I also write about fashion, dogs, feminism, royal ladies and things that annoy me. I've come close to getting all of these topics into
a single post
.
When you are not blogging, what else do you enjoy doing?
When I'm not doing my jewelry blog, I'm often found at
my other blog for the Francis clothing line
. Also I spend a lot of offline time with
other bloggers
. When I'm not doing either of those things, I enjoy staring into space and trying to remember what life was like before blogging.
WendyB and Christian Francis Roth
More importantly… what are you wearing? :)
Keep in mind that I'm lying on a leopard-sheeted bed. Therefore, I'm glamorously dressed in a
Madonna concert t-shirt from 1990
and gym shorts. If I ever get out of bed, I'll probably wear black Acne jeans, a black Michael Stars t-shirt and my
hairy, purple Versace jacket
. Something about that jacket sometimes inspires people to rudely tell me that they don't like my jacket. Too bad! I like it. I started wearing it even more frequently just to annoy the haters.
Aforementioned Madonna concert tee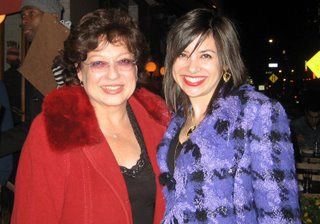 A snap of that hairy, purple Versace!
Thanks for the interview, Wendy! Intrigued?
Click over to her blog
to learn more about this fascinating lady...
**Readers: Thanks so much for visiting my blog while I am away on vacation. Tomorrow, look for a brand new Designer Profile by my friend, the blogger behind
Beatrice Waldorf's Diary
. Check the full schedule of guest posts on the left sidebar!**