So sorry for the belated post, but
Midtown Girl
filed a report for Dream Sequins on her midtown
Fashion's Night Out
... Hope you enjoy! More NYFW Diaries to come with plenty of pictures. Boy have I got some stories to tell ;)
NYC FNO '09: On location in Midtown Manhattan!
by Midtown Girl
What an amazing night! So many fashion darlings were out and in FULL-fashion gear. Let's hope this is the beginning of an awesome tradition...
FIRST Location: Tiffany & Co. - 56th & 5th Ave
Event: Feel Like Audrey Hepburn for a Night!
Scene: Tiffany & Co. was all dressed up in their signature Tiffany Blue - complete with blue spot lights, gorgeous models wearing Tiffany Blue-colored couture evening wear, a Tiffany-themed coffee cart serving free coffee and...a Blue Carpet Catwalk! WHAT?!?! FABULUSH!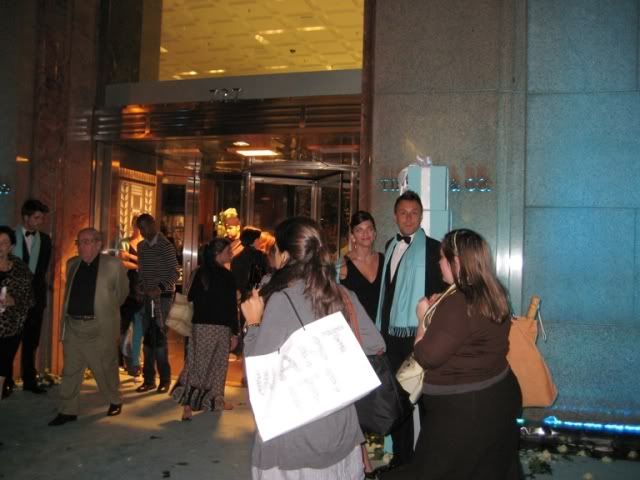 NEXT Location: Bergdorf Goodman. - 57th & 5th Ave
Event:Trying to get inside...FAIL!
Scene: This is my favorite shopping mecca. However, today was pure MADNESS!! My goal was to see André Leon Talley host a live game show using a life-size game board. But when you take one cup Padma Lakshmi and add two scoops of Olsen, you will have a crowd the size of a Britney Spears concert. Ok, maybe not that big but put it this way - the door man would repeatedly yell "If no one is coming out, no one is going in!!!" So I was relegated to taking some pics of their luscious window displays - still fun to people watch though ;-)

NEXT Location: Barney's - Women's 4th Fl.
Event: Amanda Brooks' book signing!
Scene: The stunning Amanda Brooks, a fashion consultant and author of "I Love Your Style: How to Define & Refine your Personal Style", was on hand to sign copies of her very popular style guide - and trust me this woman knows what she's writing about! She was uber sweet ;-)

Location: Barney's - Women's 4th Fl.
Event: Simon Doonan's Parisian Salon!
Scene: I wasn't able to locate fabulous Simon in the space, but I did manage to get a pic of this pretty display featuring his book "Eccentric Glamour" (along with some eccentric footwear).
And I just HAD to take a pic of this scene-stealing GUY!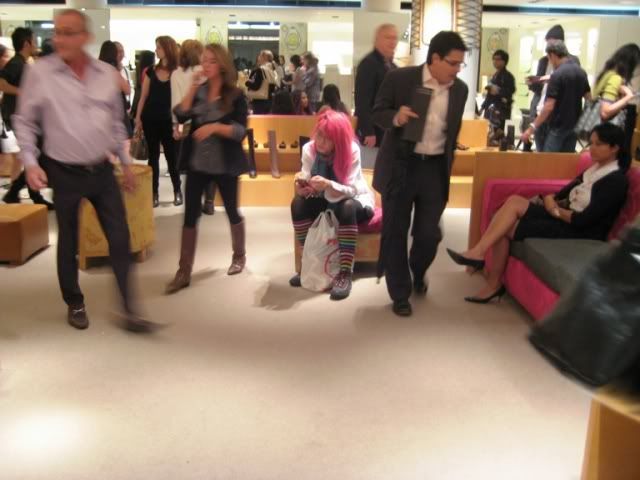 Wicked outfit, love ;-)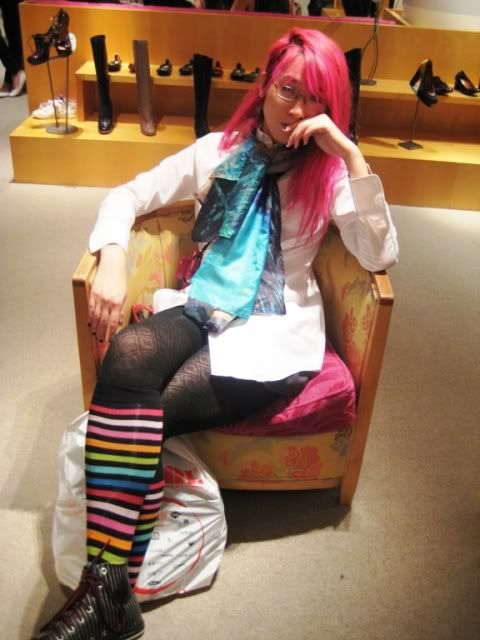 Location: Barney's - Women's 5th Fl.
Event: Fashion Illustrations created by Behnaz Sarafpour.

Scene: Excited fashionistas lined up to have this lovely NYC based designer create individual fashion illustrations after asking each gal "Are you into a more dramatic or a laid-back look?"


I say go for the DRAMA!!!


Location: Barney's - Women's 3rd Fl.
Event: Meet Narciso Rodriguez!
Scene: Chaos! Besides meeting him, the event included a chance to win one of two original collages by Senor Rodriquez. There was a small mob scene as you can tell by my pic -There are a few individuals in this pic that look familiar (and fashionably important, lol) to me but I couldn't place them - can anyone educate me, por favor?
The last event I was looking forward to viewing was the launch of 'The Row - Men's Collection' by Mary-Kate & Ashley Olsen. The Olsen's were en route from a Bergdorf's event (in which they tended bar) and due to massive FNO/Olsen-fanatic traffic, they were running late...so we had to wait -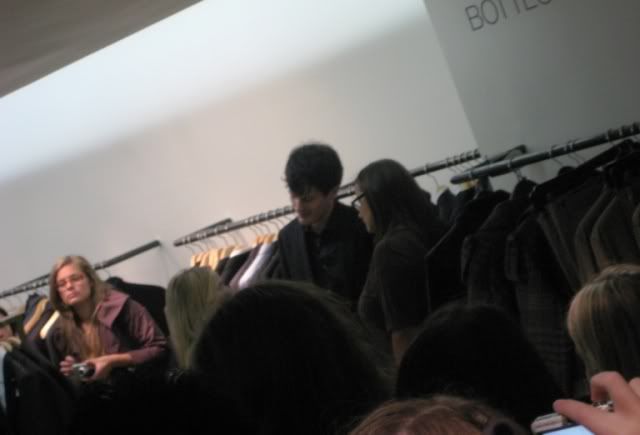 still waiting...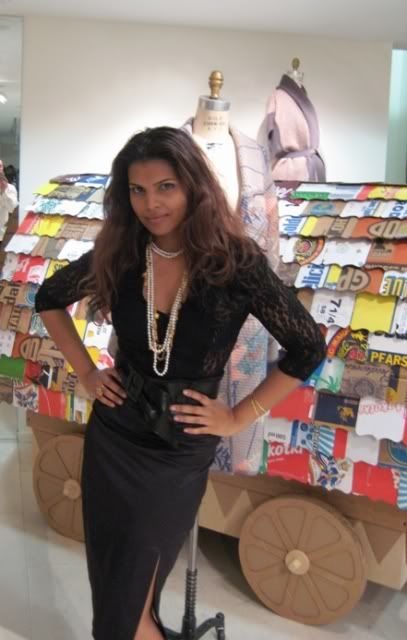 I finally decided to give up on the Fab Duo - it was hot and I was starving, so I headed over to Brasserie 360 for a much need brie & spinach omelet with fried sweet potato wedges and a glass of Sauvignon Blanc.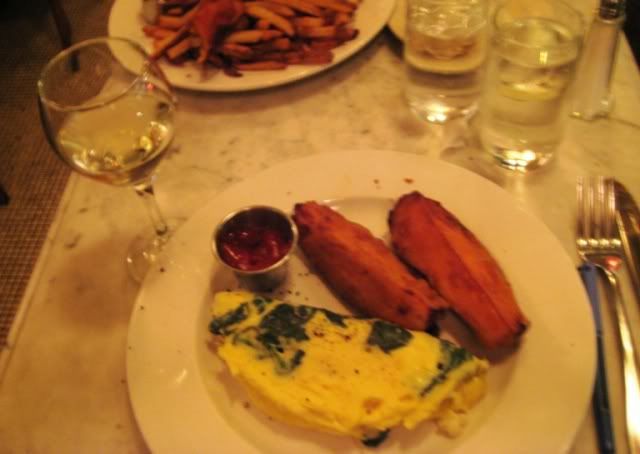 Brass 360 was full of well-heeled fashionistas, whom I am sure were grateful for this delish French eatery that is conveniently located across from...Bloomies!!! I was soo tempted to go into Bloomies, but it was already 11pm and had just started to rain!
Just as I was about to jump into a cab, I saw this fabulous woman in a luscious Searle piece - a perfect example of wearable art...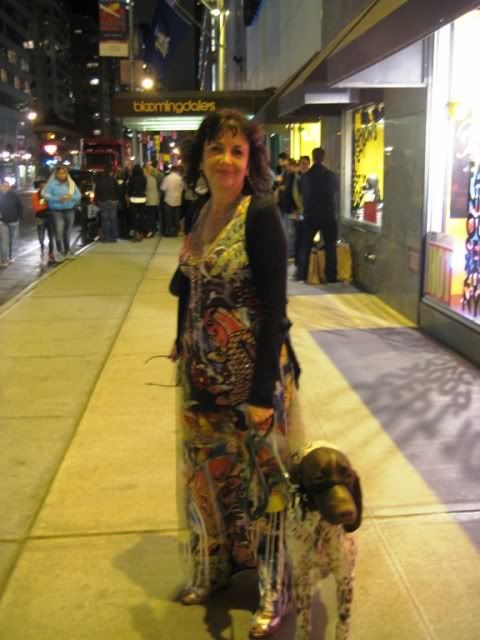 And how sweet does her Midtown Dog look? So lovely...just like this night! XOXO
Thanks, Midtown Girl!
And you: where were you on Fashion's Big Night Out??