I don't consider myself a "trendy" dresser. I like what I like and I wear what I wear... But it's always interesting to see what the glossies and blogs have to say about seasonal trends. For this week's Twitter-views, I decided to ask some of my fabulous, stylish Twitter friends the following question: "What top three trends will you be rocking this fall?" Some of the top choices included leather, black, 90s grunge, statement footwear (over the knee boots and ruffled shoes), hardware (studs, zippers, etc.) and sequins (my favorite!). Here's what they had to say...

@fastidiousbabe
biker glam is definitely on my list http://bit.ly/Bjaif

@Audrwey
sequins, tight boots, leather! ;o)

@juicyincouture
hmm that's a hard 1. A lot of the fall trends are remixed from spring 09 like those Harem pants. I'm going the classic route.

@jesspgh
1. PLAID (not tired of it). 2. 90s Grunge i.e. floral dresses and Docs (luv u Angela Chase). 3. And tights in all colors!

@ABeautifulLife
90's minimalism and global gypsy for fall 2009 for moi

@Misslizzymarie
Over the knee boots, motorcycle jackets, and acid wash.

@gabbyshewrote
I'll play! : one shoulder dresses, neon, and pink & red.

@Annabelle42
Simply: NEON.

@modediktat
1) fur vests + jackets 2) leather leggings/pants 3) BLACK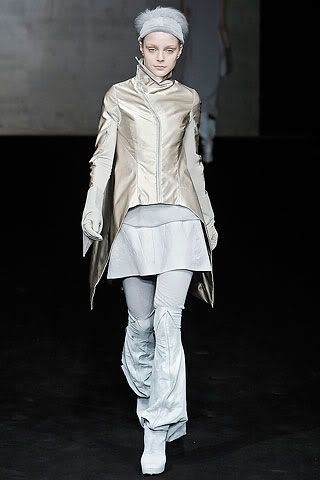 Rick Owens Fall 2009 via Style.com
@TheBeautyFile
overtheknee suede boots, studded black leather booties, dark vampy makeup!

@joulesstar
Leather, (of course!) sparkle and shine, maybe a few scattered studs.

@ashleeflanagan
for fall- subtle sequins mixed with a lot of black and neutrals fall is going to be very minimal with statement accessories

@fairykikka
my top 3 for F/W skirts & wedges, berry lips and gold accessories, hairbands & tons of black (as usual!!)

@DonStugots
blue jeans and black button down shirt.

@BitsofBeauty
Only 3? Ruffles on shoes (wearing them now), embellishments like exposed zippers, sequins, beading, and the like & lace

@BitsofBeauty
Also, my trend picks this fall: http://bit.ly/XuFfD

@queengilda
sequins, leather, spikes, spandex and heels. that's gonna be my wardrobe.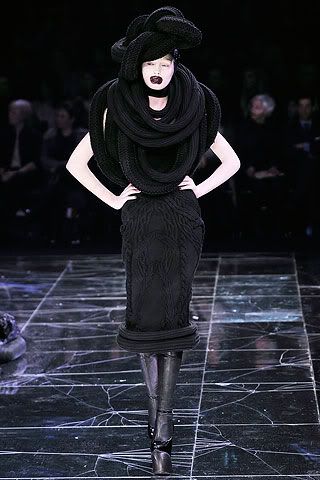 Alexander McQueen Fall 2009 via Style.com
@alexandrakeller
my trends to rock this fall: my Frye boots, tunics (from summer to fall) and my jewelry :D

@hanako66
leather, over the knee boots, coats with ruffle detail to girly up the first two!

@StyleTelevision
I'm loving black and silver for fall. I'm sick of gold. Also lots of Russian-inspired outerwear.

@katandjules
It's hot in AZ, so rocking the urban boho trend going from sandals to moto boots as appropriate! And flared denim. I ♥ it.

@BetseyJ
Creepers. Cuffed Jeans with cute ankle socks that show.

@MidtownGirl
grey suede OTK boots. denim leggings. statement jewelry. yay!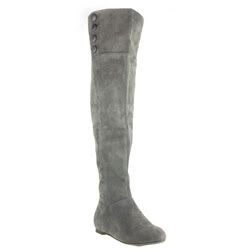 Chinese Laundry boots via Chinese Laundry website
@Fasshonaburu
HARDWARE! I am obsessed with studs, zippers & chains, especially on shoes and purses!

@lovelydisco
oversize everything, lots of black and skirts.

@craftyasparagus
My fav. fall trends: Seattle 90s & (fake) leather...& high waist skirts (I KNOW they'll be back-maybe in leather?).

@craftyasparagus
OH! And Docs! (I never stopped loving them.)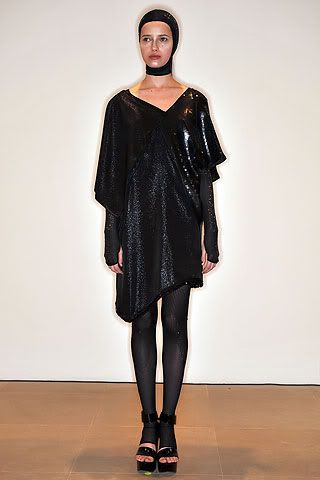 threeASFOUR Fall 2009 via Style.com
@aliciakan
Pearls, bows and brooches.

@IdStyle
leather details, borrowed menswear pieces and girlie add-ons like vintage inspired hats and pretty cocktail jewelry pieces.

@mizzjblog
hm bf blazers, chunky gold jewellery and tights with heels

@shopcalico
FALL! Leather biker gear, bandage everything, drapey layers - and I wld DIE to find a pr of reallyreally DESTROYED vtg jeans!

@fashionista0921
ruffles on shoes_ LOVE i have a great pari from madden girl

@declinedesigns
I don't know what's trendy for fall, but I'll probs be wearing ankle boots and funky legwear (tights, thigh highs, etc.) a lot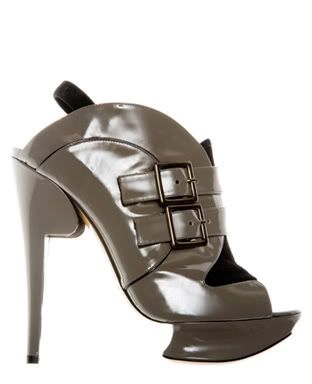 Nicholas Kirkwood Fall 2009 via designer's website
What trends will YOU be rocking this fall?
If you are on Twitter, let's be friends! You should follow all these fabulous people, and you can
follow me here
.
Recent Twitter-views:
#8: Fashion Bloggers on Twitter
#9: Ultimate Designers
#10: Guess Who's Coming to Dinner?