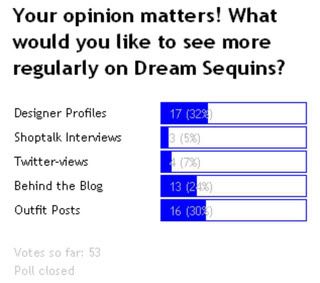 Thank you for participating in my sidebar poll! Voting is now closed and here are the results:


Most of you want to see more Designer Profiles and Outfit Posts on Dream Sequins, followed closely by Behind the Blog interviews.


I am still open to your suggestions, so please feel free to voice your opinions in the comments section below.

Hope you're enjoying the start of a good week!


Today is a very special day for me! I have a guest post over at
It's Uunbeweavable!
and a new
Behind the Blog interview
below...