Shrimpton Couture
is an online vintage shopping website that focuses on unique and high end vintage or reworked vintage items. I'm a big fan of the gorgeous dresses and accessories on the website. In fact, certain necklaces have begun haunt my dreams at night (in a good way). Thanks to my chats with Cherie, the founder/owner of Shrimpton Couture on Twitter, I've learned more about the shop's exciting collaborations with talented emerging designers such as Louise Black, The Glamourai and Norwegian Wood. Here, the charming Cherie gives us a little bit more information about her business and possibly leaks some interesting tidbits about New York Fashion Week events... Could this be another Dream Sequins scoop???

For those of us who are not familiar with Shrimpton Couture, can you give us background about the shop and how you decided to start selling vintage online?

I started the shop after being an obsessive collector for years and years. All of my girlfriends were borrowing and then buying things from me all of the time and then their friends started to do the same. The shop was born as a practical means to handle requests! It was very small when I started but early this year I brought in a professional developer and we overhauled the entire site from scratch to create what you see today. My background is in marketing which certainly serves me well now!

I am interested in hearing about Shrimpton Couture's collaborations with emerging designers. Who are you currently collaborating with? How did you get in touch with these designers?

The concept of the designer collaborations started form a single designer (RSVP) and branched out from there. I knew the designer of RSVP - she was doing items for herself and they were so appealing I bugged her and bugged her do some pieces I could showcase in the shop. The Glamourai came on board next. I was a reader of her blog and saw the fabulous pieces she was doing for herself and again got in touch and asked her to come on board! I guess I am very persuasive :-) Since then I have added Reverie NYC, Norwegian Wood, Laine Jewelry & Re:couture & Louise Black. I have sourced each myself (except for Louise Black who was actually referred to me by our mutual client Courtney Love). I look for designers that will compliment the ones in the shop already - so the look each brings to the shop is different from the others. All the designers do amazing top notch work from a pure craftsmanship perspective too!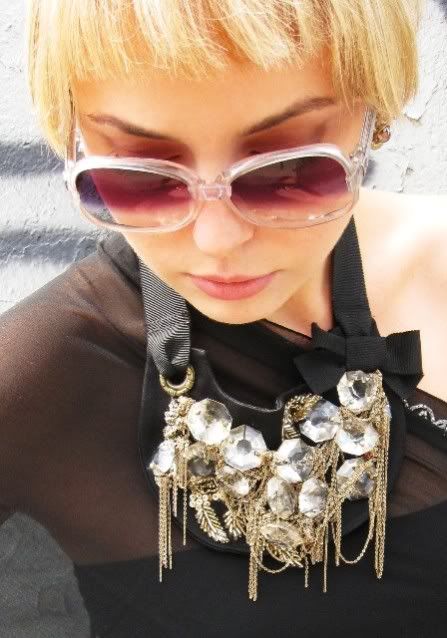 Necklace by The Glamourai
all images courtesy of Shrimpton Couture (click image to view item in the shop)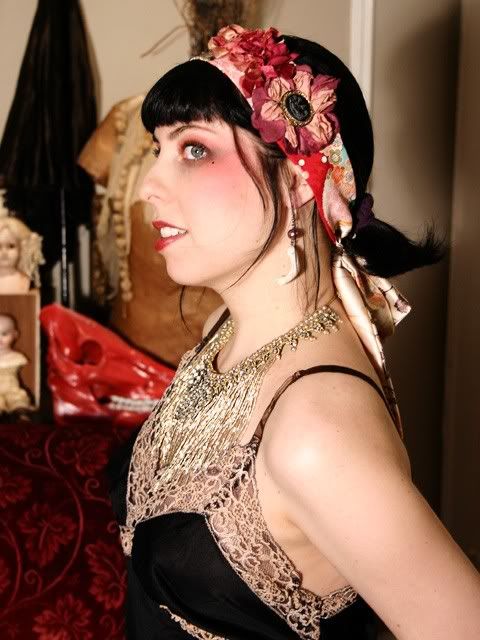 Louise Black necklace
I'm sort of a beginner at buying vintage pieces. What are things that every buyer should look for when taking the plunge into the world of vintage for the first time?

I have written a couple of articles on this for the Heralde de Paris but the basics of buying vintage are the same as when deciding where and how to spend your hard earned dollars when you walk into any modern boutique. Buy because you love it and buy because it makes you look and feel fabulous.

From a practical point of view - some basics are: Look for stains and damage. If you are a beginner you will not yet be experienced enough to know what you or your cleaner and tailor can fix or repair as afar as stains or damages so if a garments has either ask your self if you can live with it and still wear the piece if you cannot change the damage. Vintage is not new and though I stock the shop with pristine pieces (or as close to mint as I can get them), I personally have pieces that have a little wear and tear to them and I love them to death still.

I also look at the fabric, the quality and overall construction and then the style - will it work with what you already have? Most girls should buy vintage with the mindset of working it into their own modern wardrobes. So think of how you can style a piece with your favorite shoes or by throwing a jacket over it or pairing it with tights maybe. Don't feel confined by the look of the era it came from - try to picture how you can mix it in with what you already have!


A word of warning though - it is addictive!


RSVP sequin dress with tulle overlay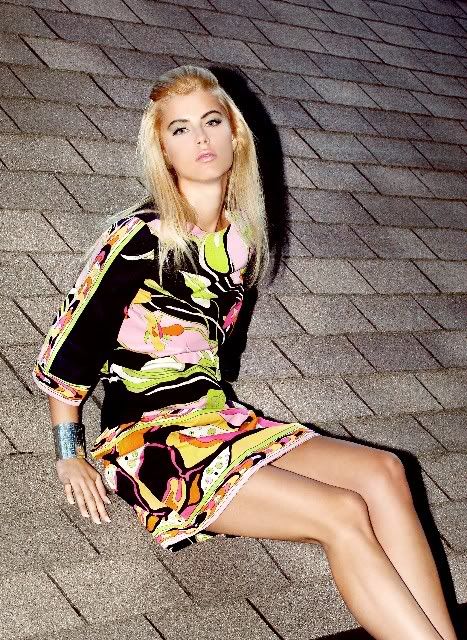 Pucci minidress

What are some of your most popular items?

I sell mainly dresses and the 40s, 50s and 1970s are all strong eras right now. Despite the magazines telling up that the eighties are back I don't find a big request for that era. I think the Mad Men craze helps the 50s to stay strong and lines like Victoria Beckham and Roland Mouret keep the fitted 40s silhouette strong and relevant.

How do you buy the items in your shop? Do you buy with certain trends or buyers in mind?

When I buy I look for great pieces that are well constructed and are well put together. I have a ton of labeled pieces in the shop but "pretty" takes precedence. I try my best to just stock drop dead gorgeous dresses. It's that simple really :-)

We'd all love to know about future projects and collaborations for Shrimpton Couture... Will there be any pop up shops in your future? Like say... in New York? I'd love to try some of your pieces on in person!

I always have projects planned to make the site a better place to shop! I am working on developing a customized sizing system to make it a bit easier to figure out your sizing as a modern girl. The lookbook feature is being worked on behind the scenes now and will expand to have a more editorial feel soon. I will also be adding a guest edit "Haute Hints" feature to the site where the designers and guests (maybe even a celeb or two!) will give us a glimpse of their style and how they would put pieces together. Shrimpton just started an official Facebook page AND I am currently courting two new independent designers - one who reworks vintage tees and a girl who reworks and produces original designs (using antique and vintage textiles) for plus size girls! I am super excited about that one since a lot of vintage is tiny and this will give girls who can't always opt in for vintage a whole new way to shop!

As far as pop ups - I would love to do a NYC pop up and in fact The Glamourai and I might just be plotting a bit of an event just along those lines around the time of the spring shows to do just that! Shhhhh... its a bit of a scoop :-)

Thanks for the scoop, Cherie! For unbelievably beautiful vintage and reworked vintage items, head over to
http://shrimptoncouture.com
.
Speaking of unbelievably beautiful, have you entered my Rock Socks giveaway yet? What are you waiting for? Click click click here!