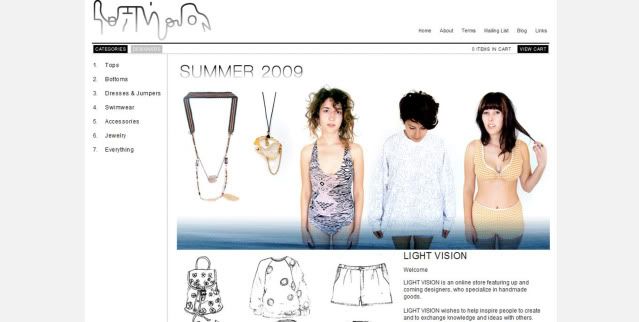 all images courtesy of Light Vision

I've seen the light... of online store Light Vision, a new, curated marketplace for up-and-coming and independent fashion. My interview with emerging label RosenMunns
turned me on to the San Francisco-based website, which sells apparel and accessories from labels such as Mono
and Octopi
(all labels covered here). I love Light Vision for its unique aesthetics and carefully selected pieces; because if you're anything like me, you may find the bounty of online shopping sites overwhelming. I interviewed Krista Bachmeier, the resourceful founder/owner, to learn more about the venture and loved her enthusiasm for emerging and independent designers. Read on to learn more and please do check out the site for yourself!

Tell us about how you started Light Vision. Are you the sole founder and partner?
I am the sole founder. Light Vision became a reality because my boyfriend knows how to make websites, so I came to him with the idea of starting my own online store to showcase all of my talented friends and up and coming designers/independent designers. He isn't technically my partner, but if it weren't for him, Light Vision would be non-existent.

So what's the concept behind the shop?
The concept behind the shop is basically to help support talented people, and to help encourage others to buy "slow fashion," and not buy all your wardrobe at places like Forever 21 and H&M, where the clothes are not made responsibly. Fashion should be about inspiring and creativity, not ripping off, and about durability, not throw-away.

There are so many talented people in this world and I want Light Vision to be another place for people to show and sell their designs. I went to school for fashion and textiles at CCA in SF/Oakland, where I learned alot about fashion and myself. I still love making clothes, and eventually (if I ever find time) will make a small line to sell on LV as well. I have ALOT of retail experience, and the most rewarding of it comes from my time spent at MAC (Modern Appealing Clothing). One of the best stores in the world. I have learned so much from Ben and Chris Ospital (the owners).

Tell me about the designers that you carry on the site. What is your selection criteria and do you do the buying yourself?
A lot of the designers I carry are based out of SF, and I have met them through school or MAC, or other jobs. The designers I sell who are not from California are people who have either come to me or I had found out about through the world wide web. I feel like there is a certain aesthetic that I gravitate towards and so I try to stick with that when deciding who to carry, but I love hearing from new people!!! Right now everything is consignment because I am so small and new, but I really hope I can do wholesale someday (the sooner the better!)


CRISTALETTE skirt


Octopi necklace
openclothed top
Tell me about your customers. Who are they? Do you ship internationally, by the way?
My customers are people who want to support talented people. They buy from small boutiques who carry well-made clothing and accompany those pieces with vintage/thrift store finds. I ship worldwide, but because I'm so new to shipping rates it's best to e-mail me first for shipping before ordering internationally.

I know that you're hosting a pop-up shop at MAC next week. Besides that, what other events, collaborations or projects can we look forward to from Light Vision?
I am trying to keep things fresh every month with some sort of event. The pop-up shop at MAC will be a blast, and in June we had Light Vision and Anica Boutique host a pin party ("Bring Your Own Pin") for RosenMunns. That was a great turnout and super fun! We had people bring pins and pin them on a live model who was wearing an oversized sweatshirt designed, made and dyed by RosenMunns.

Also the homepage artwork for the store will change monthly, with a new drawing by the designers I sell. The drawing/art work will then link to their webpage. And I am ALWAYS looking for new ideas and new collaborations. People supporting people, what a concept!

RosenMunns "BYOP" sweatshirt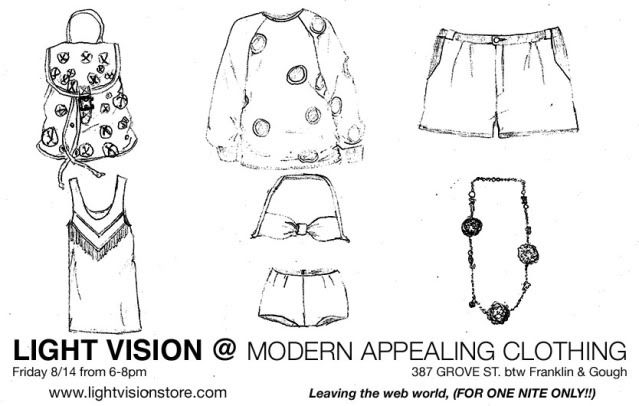 Thanks for the interview, Krista! For more information, check out
http://lightvisionstore.com
. And if you are in San Francisco next Friday August 14th, be sure to check out the pop-up shop (details in flyer above)...
More Shoptalk on Dream Sequins:

Anica Boutique
Not Just a Label
Smashing Darling