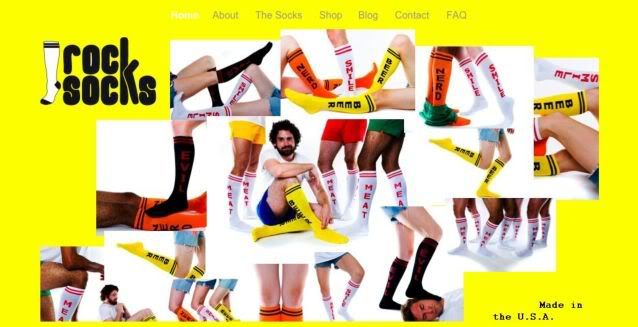 all images courtesy of Rock Socks
Rock Socks
is a new unisex accessories label in Los Angeles that specializes in colorful statement socks. I fell in love with the quirky, nostalgic charm of their debut collection of knee socks in punchy 70s colors. My hosiery wardrobe is mostly monochromatic and boring, but once in a while, I get the urge to rock a pair of offbeat socks. Fashion doesn't always have to be monochromatic and boring. Sometimes, it can be unique and expressive in a very funny way such as wearing retro knee socks with words like "Evil" or "Nerd" on them.

Erica Easley

, founder and owner of

Rock Socks

, recently answered some questions about her new label. Please read to learn more and be sure to enter the generous related giveaway!



Can you tell us a bit about your background? Why socks? Why socks with words on them? Do you have a background in fashion?



I graduated from Columbia with a BA in English, and have been trying to figure out a way to combine my degree with my fashion obsession ever since. Isolating powerful words and putting them on socks, as I'm doing with Rock Socks, is a move in that direction, I think. I've worked in the fashion industry in one form or another for most of my adult life. Currently, I'm a partner in

The Red Light
in Portland, OR, the West Coast's largest vintage store.

Rock Socks grew out of something I did on a whim a year ago:

Obama Socks

. Obama socks were the world's first-ever presidential knee socks. Knee socks with shorts have been my unofficial uniform for years so when Obama's campaign took off Obama Socks seemed like a no-brainer to me. They were featured in a bunch of media (

Marie Claire
,

LA Weekly
, The Oregonian, etc.) and extremely popular - I couldn't keep up with demand...it was a great experience.



Who would you say are the typical Rock Socks customers and which city rocks your socks the most?



Rock Socks are playful, quirky and bold; they appeal to people with a good sense of humor and adventure, and strong passions. Because Rock Socks are new, I've focused promotion and placement on the West Coast, where I'm based. So, with that caveat, I'd say Portland rocks these socks the most. It's just a bike-friendly, sock-centric city. However, I'm interested to see what happens as time goes on because last fall, when I first began selling only Obama socks, I sent tons and tons of orders to NYC.



Which celebrity would you like to see sporting Rock Socks?



As for celebrities, I'd love, love, love to have

Gwen Stefani

or

Andre 3000

wear Rock Socks (they look great with knickers!). Or

Mette Lindberg

of

The Asteroids Galaxy Tour

- she's so original (both her style and her music)!



What kind of hosiery trends do you think will be hot for fall?



Hosiery seems to be going in a couple of directions. I think that natural, dark colors and nubby textures on tights and thick over-the-knee stockings will be strong due to the continued influence of late Victorian to 1920's fashion. But that's counter-balanced by vintage sporty looks, particularly '70s and '80s athletic-wear, so brightly colored opaque tights and knee socks will also be good bets. Really, though, the biggest trend in hosiery this fall is hosiery itself. A couple of years ago, knee socks and tights weren't even on the radar. Now, it's all about how socks or tights can MAKE your outfit.



Thanks, Erica! To close, can you tell us about any plans to expand Rock Socks and its collections in the near future?



I absolutely plan to expand Rock Socks - this is such an untapped medium in fashion! I have so many ideas I can't wait to manufacture, but I also want to be responsible about growing my company so I'm not going to make everything all at once. Rock Socks will introduce new styles every few months. Soon we'll offer men's dress socks along with women's knee socks while probably continuing with some unisex designs, too. In fact, we have some awesome holiday socks in the works as we speak. I can't give away everything, but rest assured they won't feature snowmen or dreidels.

To check out the collection and to purchase Rock Socks online, check out the website here: http://rocksocks.net/.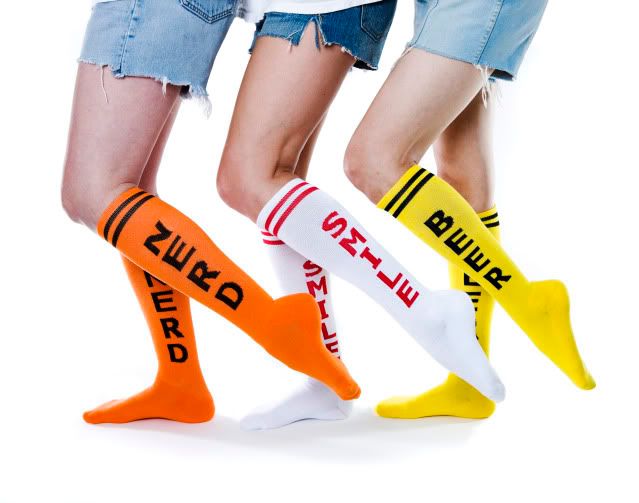 ROCK SOCKS GIVEAWAY!
Thanks to Erica's generous offer, one lucky Dream Sequins reader will be chosen at random to receive

all six designs from the current collection

(excluding the Obama design).



To enter this giveaway, you must:




(1) be a follower of this blog via Google Friend Connect (see sidebar to the right under "Cool Cats Who Follow This Blog") and




(2) leave a comment in this post about how you would rock your Rock Socks.



**UPDATE** This contest is open to US and Canadian residents only. To my lovely international readers: stay tuned for other worldwide giveaways in the near future. They will be great, I promise!!

Deadline to enter the giveaway is

Tuesday August 25th at 11:59 pm NYC time

. One entry per person, please! Good luck!