Creatures of the Wind Fall/Winter 2009 lookbook
all images courtesy of the designer's website


The year 1977 was significant for space exploration in the popular imagination; in addition to the release of Star Wars, NASA launched the Voyager probes, each carrying the Golden Record, a time-capsule of sounds, languages and music meant to be a literal record of humanity for encounters with intelligent alien life. Chicago-based fashion label, Creatures of the Wind, was so impressed with the idea that it formed the basis of their third ethereal and galactic collection of dresses, separates and accessories.


"We were really touched by the sentimentality and idealism of the Golden Record," says

Shane Gabier

, who along with

Christopher Peters

, make up the core design team of the emerging fashion collective. "It also brought to mind images of something lost, floating in space, with very little chance of ever being found. These ideas, the atmosphere that it suggests, mixed with some subtle visual references from the time period, became our point of departure for our latest collection."

If their most recent collection sounds a bit cerebral, it should come as no surprise that the pair also draw influences from the Antwerp aesthetic. Gabier, who studied at and currently teaches in the fashion department at the School of the Art Institute of Chicago (SAIC), lived in Antwerp for a year and a half, working for Jurgi Persoons, Dirk Schonberger, and a small knitwear atelier that did samples and small production for almost everyone in Antwerp and notes: "My time there was a really important part of my growth as a designer."


For Fall, Gabier says "it seemed natural to use a lot of dark colors, but it was also important to soften it a bit, so we also used a lot of ivory and warm grey." To convey floating and weightless, he says, the team used lightweight, sheer fabrics such as chiffons and georgettes, in addition to silk/wool blends, sequins, silk satins, wools and cotton sateens. Of the stellar prints throughout the collection, Gabier explains that they are digital prints developed with Emma Wyman, a friend from London, using what he calls "images of outer space blended with speckled surfaces of late 70s ceramic glazes."


Although the full-time team consists solely of Gabier and Peters, Gabier says that it's important for the designers "to collaborate with other designers, artists and friends, and we try to bring in two or three each season. For Spring 2010, we are working with two fiber artists who are doing incredible macrame, one chainmail artist, and a sculptor friend from Japan who is making hats."


Aside from this, the pair handle everything themselves: working on the concept, designing the collection through sketches and draping and developing the first muslins, which then goes to their patternmakers and samplemakers. "We try to start each collection immediately after showing the previous one," Gabier notes of their design process. "Chris already had a dozen pages of Spring 2010 sketches by the time we got off the plane from showing the fall collection in Paris last March."

When asked about the changing fashion scene which was once home to the fashion-forward First Lady, Gabier notes: "Chicago has an amazing art scene, a wide and varied music scene, and a progressive, forward-minded food culture. However, the fashion scene hasn't totally caught up yet. There are certainly well-dressed people here, and there are a couple of shops that are incredible. Ikram Goldman has done a lot for the fashion scene... And the school (SAIC) is finally starting to get the attention that it deserves as well; the department of fashion design recently added a master's program, and there are some really incredible designers and artists on faculty."


In addition to a few projects under wraps for Creatures of the Wind, Gabier and Peters say they are busy preparing for their first presentation in New York during Fashion Week. "The spring collection is going to be very different from anything we've done so far, lots of intense surface treatment and more focus on embellishments," Gabier hints. More bling for spring? We're certainly looking forward to see what the label has in store for their New York presentation... Stay tuned!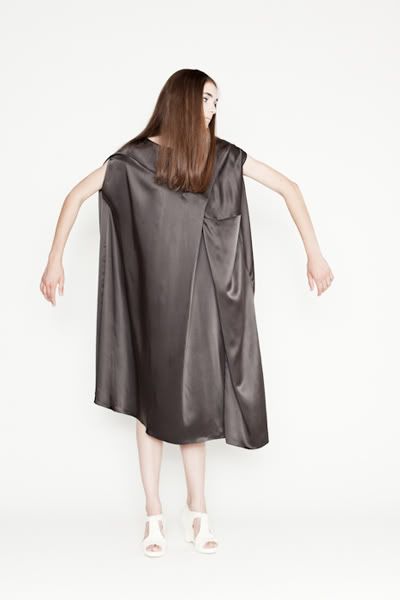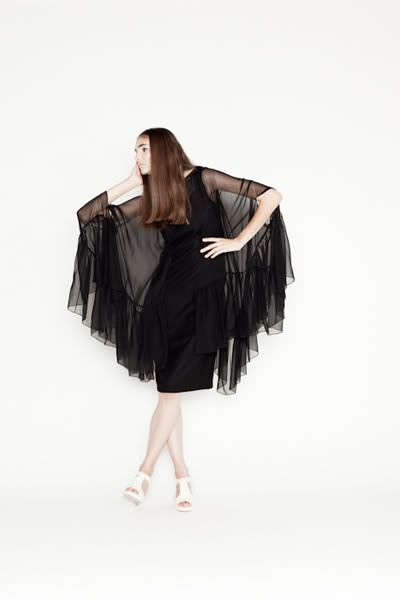 Creatures of the Wind may be found at boutiques such as Stand Up Comedy and Hejfina. For more information on the label and stockists worldwide, see http://creaturesofthewind.com/.

More Designer Profiles:
mono
CRHEE
Parsons Thesis Collections (09)