Spring/Summer 2010

I've been impressed by the student collections this year. They seem to strike the right balance between creative and commercial. Case in point: Camilla Francesca Lastrina, who is a finalist for the Mittelmoda Fashion Award, an international student competition which will announce winners in September. Lastrina's work is about refined layers, ruffles and draping. I am also gaga for former John Galliano and Bernhard Willhelm intern Anne Marie Jensen, whose colorful graduate collection was inspired by Kafka and the circus. And finally, I'm loving the crisp white toreador-inspired pieces from Nanna Isbrandt Bach Jansen's portion of the show.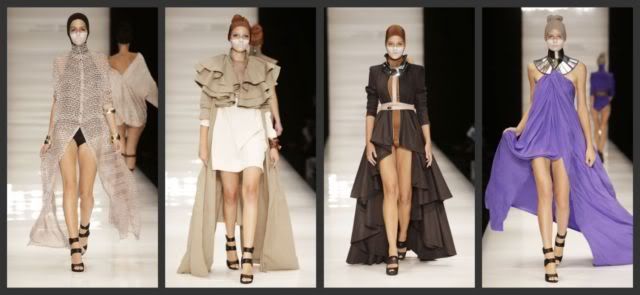 Danmarks Designskole: Camilla Francesca Lastrina

Danmarks Designskole: Anne Marie Jensen

Danmarks Designskole: Nanna Isbrandt Bach Jansen

Stine Goya
Spring/Summer 2010

"Cool by the pool" perfectly summarizes Stine Goya's Spring/Summer collection. Colors were orange, mint green, grey and classic black, with ombre and sequin effects sprinkled throughout. Perhaps in a tribute to Michael Jackson, a few menswear inspired looks were paired with a single sequined glove...
I would like one of each, please...
(Stay tuned for Weekend Links and
my continuing obsessive coverage of Copenhagen Fashion Week ;))