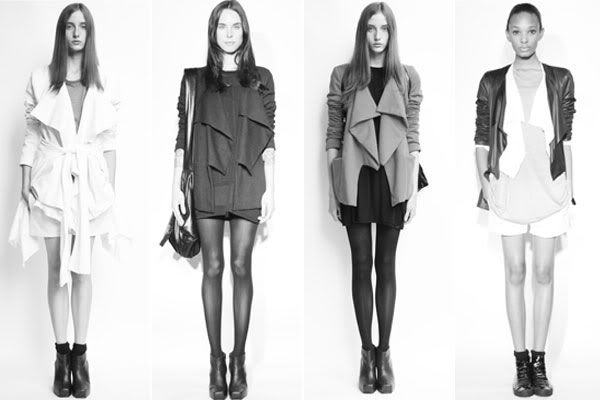 from Rad by Rad Hourani lookbook [via Refinery29]


This week, in lieu of normal weekend links,
I thought I would name ten blogs to accept this award,
given to me by lovely blogger

Janetteria

...


Sugar Doll Award
The rule is simple: list ten interesting facts about yourself,
then pass on the award to ten other "Sugar Doll" bloggers!


Here are ten random facts:

My husband and I dated for nine months before he proposed. When I tell this story to some people, they look shocked and unnerved somehow. Sometimes, when you know, you know, right? Sometimes nine months or less work for people, and for others, two years is not enough time to really know if you want to spend forever with that other person...

I was born in Utah. Not even Salt Lake City, either. My family moved around a bit due to my father's post-graduate education, before finally settling in California. To avoid the long geographically exhausting story, I usually tell people that I grew up in California. Which, I suppose, is only partly true.

I may not be good at cuisine, but I took a class in Cooking 101 last year. I think cocktail making is more my speed: I took two cocktail making classes that same year. Priorities.

When I was in college, I was obsessed with vintage clothing from the early 60s, and, like most absolute beginners, dressed in a rather costume-y way, taking a clipping of Jackie Kennedy or Audrey Hepburn, then trying to cop their look from head to toe. I still enjoy these photos of myself, especially ones from Halloween when I was convinced that a saggy white sequin dress I got at a charity shop plus a flip bouffant wig would make me a dead ringer for Diana Ross from that time period. :)

My younger sister and I wear the same dress size, and yet she towers over me at an imposing height of 5 feet 10 inches. I'm convinced she drank my milk! Sometimes, I still think she's not over her growth spurt yet...

I have never owned a furry pet.

I love doing laundry. It's a sick fascination with my washer/dryer.

I eat some form of sour candy every day. Sour Patch Kids are probably my favorite at the moment.

I'm a very methodical shopper. If I'm familiar with a store's brand, I generally look through every single nook and corner of the boutique and almost every piece. There's a method to my shopping madness.

I'm crazy about the movies. I could watch movies all day, one after the other, and not get sick of it.

I would like to pass this award to a few blog crushes.
Please check out these blogs, because they are extraordinary!

Moxsie Giveaway Winner!



And now to announce the winner of the latest giveaway....
The lucky reader who will be rocking the Necklush courtesy of Moxsie is...




Comment #70:

Deka

!!!

Thank you for your comments and congratulations to the winner!


Hope you all enjoy your weekends. I am not sure what I will be doing.
A lazy summer weekend, I hope!