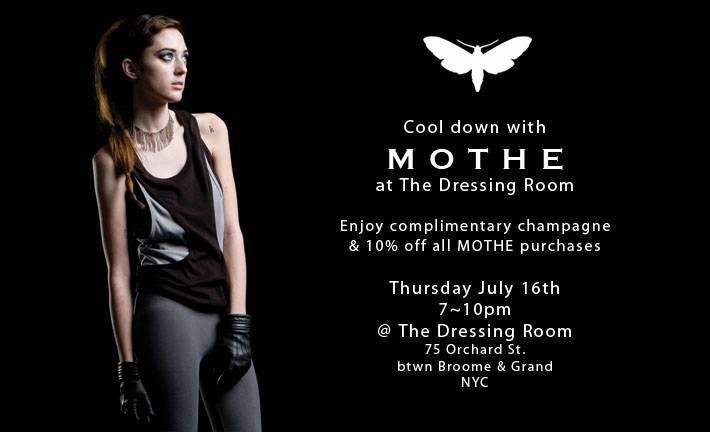 Wow-- Is it Friday already? I don't know about you, but a full work week after a long holiday weekend can be really painful. My regularly scheduled interviews have been a little sparse in the past few weeks and I've been suffering from a mild case of summer burnout. Still, it's hard to argue with summer, and I've certainly been enjoying myself, especially my whirlwind weekend trips; and if this blog has suffered as a result, I apologize! This weekend, I'll be posting a Twitter-view, catching up on some writing, blog posts, and taking a little time to frolic closer to home (hopefully we're staying local this time because all this travel has thrown me for a loop)...

What will you be doing?
Hope you take time out this weekend to enjoy summer... and check out these weekend links:

READ

Dramatis Personae just made me gasp with her post about bubblelicious, eco-friendly wedges from United Nude Shoes
...

The lovely Brigadeiro shares an account of another fabulous weekend away... With delicious food and fashion photos
!

Bobbin Talk breaks out some stylish emerging millinery designs
.

I've been wanting to rock a lace bodysuit and Style with Benefits rocks it like no other
...

And if you're catching up on Dream Sequins, check out this hot-mazing Behind the Blog interview with the lovely Liz
of It's Unbeweavable! and a gratuitous shot of my new sky high wedges from Topshop
as well as an account of last weekend's adventure in Atlantic City.

SAVE THE DATE

I know there are a ton of sales happening right now, but if you are in New York, save the date for the MOTHE sale event (details listed in the invitation above) at The Dressing Room on July 16th. You can read a profile of the talented designer here
.


REVISIT

Many of you know that I hosted a 100th post giveaway
with a plethora of prizes from emerging/indie designers and boutiques last month. Well, I personally posted the packages recently and was pleasantly surprised to receive some outfit shots (upon request) from some of the lovely, amazing winners!

Denise of The Swelle Life was the grand prize winner and the photo below captured her in an awesome paparazzi style photo from a recent blog post about the contest (which I grabbed and posted below). She's wearing: the Garfield tote from Stand Up Comedy, the eco tote from Shopflick, totebag from CRHEE, armwarmers from NIT:FELT:PHRAME, headband from The Battalion and a mirror from Brittique! Please check out her blog for coverage of pretty things, fashion and art with a French twist!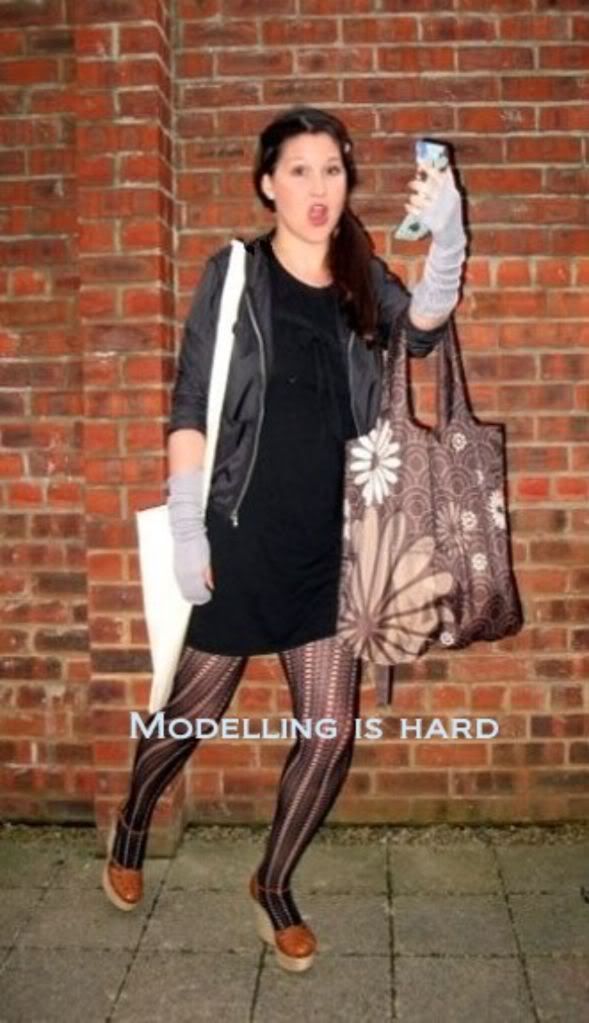 Denise of The Swelle Life


Emma of When I Grow Up was the second prize winner and she was nice enough to send me two photos of her prizes, including: a LucyJ chic shopper and coin purse from Brittique, eco shopper from Shopflick and a bamboo jersey headband from The Battalion. Thanks, Emma!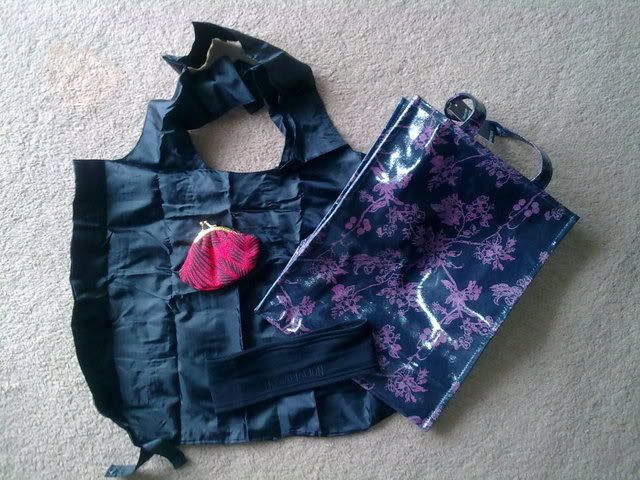 Emma of When I Grow Up
Thank you, lovely, stylish, hot-mazing readers for visiting, reading and commenting on Dream Sequins. I know I've been in a bit of a creative funk recently, but I'll be back to regular fashion sleuthing and commenting shortly! Stay tuned for a few ad hoc giveaways in the near future ;)