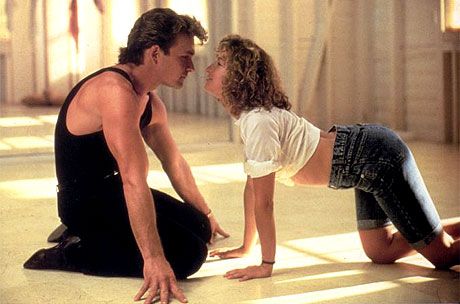 Jennifer Grey and Patrick Swayze in Dirty Dancing (source)
Happy Friday, everyone! I'm heading up to the Catskills tonight to spend the weekend with friends in a country house (sadly no Dirty Dancing will take place). We'll be firing up the grill, lazing by the pool and visiting a pet cemetery (don't ask about that one-- but I'll be sure to take spooky pictures for your consumption). Hope you enjoy sunny times this weekend.

And be sure to click on some of these delicious links:

READ
Check out these lovely photos
styled by the talented AsianCajuns.

Our City Lights shares some awesome polaroids from her recent trip to Northern California.


Wrecked Stellar rocks neon like no other—and nearly gets into it with a rude elder at the movies!

If you are catching up on Dream Sequins, check out this Super Awesome Giveaway of a style consultation with Mademoiselle Robot, which will be open until July 22nd. This week, I also posted a Twitter-view: Guess Who's Coming to Dinner?, in which my Twitter friends disclosed their dream dinner dates. And last but not least, check out the Behind the Blog feature with E of District of Chic!

WIN
The blog-o-verse is raining with giveaways right now. Try your luck and check these out. Who knows, you may just discover a new blog crush...

You have until 12 am PST tonight to enter the Chickdowntown giveaway on Style Symmetry. You could win an awesome dress. Do it!


Alixrose is doing a lovely scarf giveaway (open til July 29th).


Blog Goggles is giving away some lovely chandelier earrings (open til July 21st).

Drollgirl is hosting a hilarious contest which gets a little "nosy
." OK, I believe someone already won this gift card, but the pictures are awesome.

Mademoiselle Robot is hosting a lovely jewelry giveaway
(open til July 22nd).


DO/SAVE THE DATE

Earlier this week, I hinted that I would be saving my dollars for some upcoming sample sales. Here are a few events and sales that may tempt my New York friends...

above: a look from Doo Ri courtesy of the designer's website

Tonight in the East Village, be sure to check out a

group photography show

including the work of Monica Shulman, the lovely photographer behind

Ciao Chessa

.


Starting today through Tuesday July 21, local Lower East Side shops are offering in-store discounts for (Capsule) week. Check out the show and other information at http://capsuleshow.com/newyork.

Doo Ri is hosting a sample sale on Wednesday 7/22 (Friends and Family), Thursday 7/23 and Friday 7/24 (between 9 am to 6 pm each day). No word on whether the amazing leggings pictured above will be on sale... 39 West 38th Street.

Save the date for a sample sale for emerging label Cut It Out-- Friday 7/24 through Sunday 7/26 (between 12 pm to 9 pm each day). Prices will range from $60-200. Pieces of Eva's collections will also be available at 35% to 75% off. Hosted by Eva New York, 355A Bowery.

Save the dates for the W29 showroom sample sale featuring Masayuki Marukawa, Margarita Saplala, House of Dagmar, De/Couture – Thursday 7/23 (10 am – 7 pm), Friday 7/24 (10 am – 7 pm), Saturday 7/25 (11 am – 4 pm)- W29th Showroom, 208 West 29th Street, Suite 201.