from left to right: Wendy Brandes (Wendy Brandes Jewelry) wearing Francis Spring 09, me in Francis Holiday 09/10, Christian Francis Roth and Kimmie Smith (Kitten Lounge) in Francis Spring 09
On Sunday afternoon, I had the pleasure of checking out a private shopping event at the Nolita studio of designer Christian Francis Roth for his new label, Francis New York. Gorgeous jewelry designer and blogger Wendy Brandes
, who is collaborating with the designer on a blog for the new venture
, invited a few lucky ladies to check out sample pieces from spring, along with a peek at the fall and holiday collections. I jumped at the chance to meet Wendy for the first time, but never expected to meet the womenswear designer in person as well. Christian was a charming and humble host, offering gracious assessments of the real women in his studio, none of us glamazon size 0s, as if we had been clients of his previous incarnation as a couture designer.

In the early 90s, at the precocious age of 21, just after his first runway show, Christian was embraced by the fashion elite as the Next Big Thing. Of his playful prints and color-rich pieces, Holly Brubach of the New Yorker wrote: "These clothes would look first-rate in Paris or Milan or Timbuktu. It is already too late to call him promising. There is, in his clothes, nothing more to wait for."

And yet, years later, perhaps there was something more to wait for-- as evidenced by the strong Spring 2009 debut of his affordably priced label. The collection for spring, entitled "The Gangs of New York," was inspired by high school cliques, ranging from graffiti-splashed downtown dresses to uptown, undone black-tie-inflected pieces, infused with a quintessentially "Christian" sense of humor and playfulness. These are quality, seasonless pieces at contemporary price points.

Here are a few photos from Sunday's adventures along with some of my favorite looks from Spring 2009 and a peek at Fall 2009, which will soon be available for viewing on the designer's website...

apres shopping for peach sangria = heaven!
Spring 09 plaid look (this skirt reminds me of Alicia Silverstone in Clueless, and I have one in my size on hold!)
Spring 09 subversive black tie inspired look
Spring 09 mod tuxedo dress
Fall 09 look - back to school??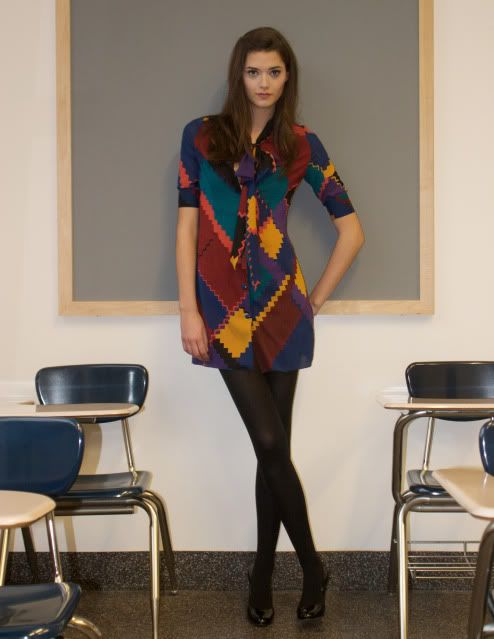 Fall 09 print dress
For more information about the label, check out:
http://francisnewyork.com
.
More Designer Profiles:
Wren
Sophomore
CRHEE