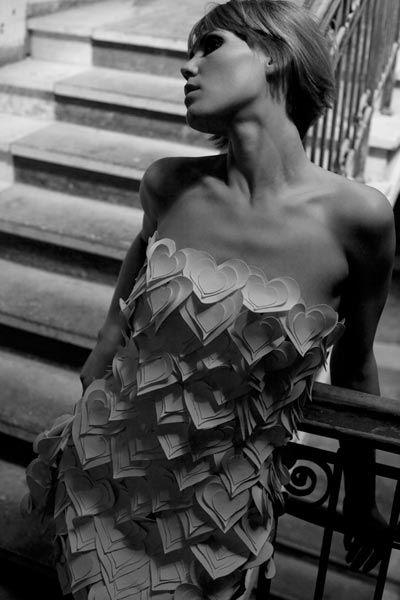 all images courtesy of Blushless

Wedding season is in full swing, and I don't know about you, but I'm sick of looking at Cinderella-style, poufy cupcake gown brides. In full disclosure, this was my wedding day look when I married my Mr. nearly five years ago; but tastes evolve and for every generic pretty bride, there's another bride who has a different vision for her special day. Blushless is a new Berlin-based label for the avant-garde bride's sartorial needs. The Coveted recently turned me on to the designs of founder/designer Liv Lundelius, who will be debuting her first collection during Berlin Fashion Week (this week). I meant to publish a writeup earlier, and was gently reminded by Liv when I posted about
the Spring 2009 collection for threeASFOUR
, that it was the very same collection she helped design when she was working in New York! Blushless gives the white wedding dress a refreshing spin with unexpected hemlines, fabrication (eco-friendly materials such as silk and vegan leather) and textures and I would be proud to wear something as unique when the Mr. and I plan to renew our vows in a few more years (oh yes, it's never too soon to start shopping for that)... Check out this interview with the delightful designer herself to learn more about Blushless.


I'd love to hear about the concept behind your label. When did you decide to start Blushless, and why bridalwear?

After fashion studies in Berlin I spent one season with threeASFOUR in New York. During this time I developed the vision of my own label Blushless. Some good friends artists/musicians got married and I recognized that there is a need for fashionable, avant-garde dresses for brides. So that's what I wanted to do! I've always loved dresses and the idea of wild rocking weddings: doing something great, a party with all your friends and family to celebrate the love of your life.

Can you tell me about the inspiration behind your debut collection?

The main inspiration for this collection came from David Lynch's movie Wild At Heart.I chose this movie for many reasons. I fell in love with this amazing leather bra the character Lula wears in many scenes. And I like the story and all the weird characters. Weddings are about happy endings, and being wild at heart… and for the girl who is "wild at heart and weird on top," a wedding dress should be anything but boring....

Blushless uses vegan leather of the softest touch, combined with the finest fairtrade silks. Innovative microfibre textiles get a special finish through extraordinary hand-stitching (old technique, new materials). Ripped tulle combined with a leather belt... Sheer gowns...and everything looks a little bit off. Every piece is different but they all have a connection. They are all different characters but out of one story.


Are there any challenges in working with eco-friendly materials?

It's just more research to find good fabrics that are ethical and sustainable. Every material has its pro and cons; there is no material that is perfect. The handling and thought process are more challenging, and time consuming. Draping and production of the dresses are the same as with other fabrics.

Where can we buy your clothing? Can we buy them in the US or online?

Overseas customers can get in touch for custom orders as long as they don't have matching retailers in their region. There's so much amazing feedback from the USA right now so we want to make sure our customers get their dresses! We are planning to work with an online store in California and once we launch, I will let you know about the URL…

What are the general price points for your pieces?

They are between 1700-4500 USD, with most dresses in the middle.


Speaking of customers… you must have an ideal type you'd like to see in your gowns…

Great, strong personalities who know what they want. Independent and artistic. City girls that are wild at heart and weird on top.

What does the future hold for Blushless? Are there any projects or collaborations we should know about?

People keep asking for evening dresses from Blushless, so this will be the next step. There are plans to add a second line Blushless Black, that is not bridal but also eco-friendly avant-garde. Besides that Blushless has a wedding blog Be Blushless, which provides inspiration from art, music, movies and design to make your wedding rock. I am also starting a great photography project with an amazing German photographer. And I am looking forward to all things to come.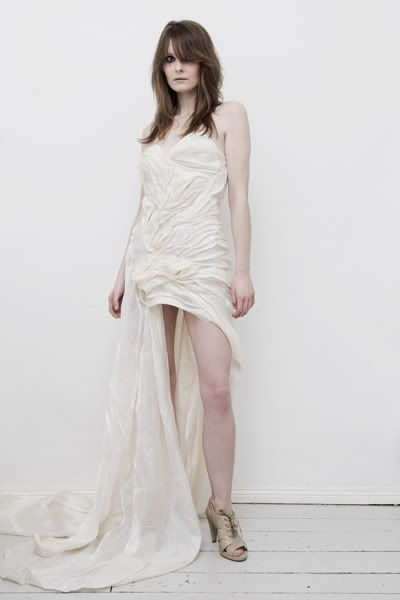 Thanks for the interview, Liv! For more information, check out
http://blushless.com
.

Other Designer Profiles on Dream Sequins:

Daphne and Vera Correll
mono
The Battalion