With Copenhagen Fashion Week taking place next week, I thought I would use a few posts to review some innovative Danish labels. First up: bARBARA i gONGINI and Moonspoon Saloon. While they cater to different sensibilities: one dark gothic and another rainbow bright, they do have this in common: both labels are shunning the traditional runway this season, with bARBARA i gONGINI presenting a virtual runway show and Moonspoon Saloon debuting its work on film.

bARBARA i gONGINI

Designer Barbara Gongini, a graduate of Danmark Designskole, uses monochromatic colors, draped jersey and pleated tulle to create strong new textures and silhouettes in her collections. I love the voluminous, unexpected halo effect of tulle used throughout her Autumn/Winter 2009 collection. Despite the ghostly pallor of the models, her design details have a warm touch of humor and I've fallen hard for her accessories. A select range of her more affordable designs can be found at Pixie Market.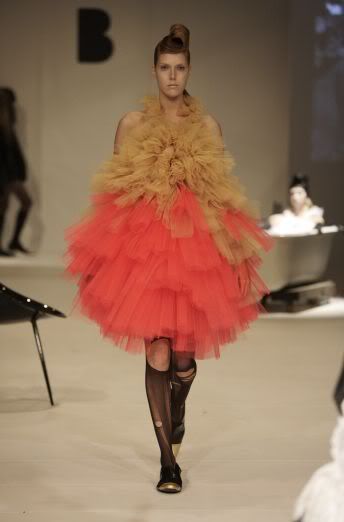 Moonspoon Saloon

Moonspoon Saloon is a new discovery for me. Now approaching their third collection, the Copenhagen-based fashion meets art collective includes key members, designer Sara Sachs (a Central Saint Martins grad), painter Tal R and photographer Noam Griegst. The key concept behind Moonspoon Saloon's fashion collections is that only 99 pieces of 99 styles will be released; once the limited editions have run for the label, the "project" will be considered finished. Their Autumn/Winter 2009 collection was a clash of eclectic colors, knits and furs, some of which was less than successful and others simply breathtaking. All of it unique and limited edition, of course. Select pieces from their first collection are currently available at Seven New York.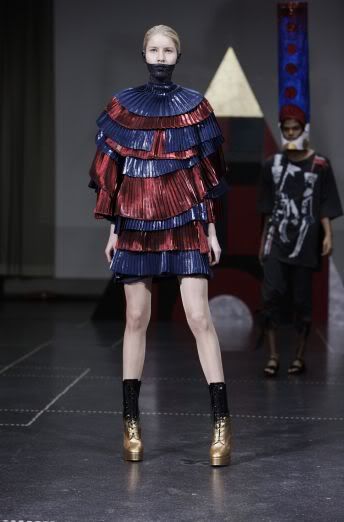 all images courtesy of the Copenhagen Fashion Week website

For more information about bARBARA i gONGINI, check out her website here
. And to learn more about Moonspoon Saloon, click here
. Copenhagen Fashion Week officially kicks off on August 5th.

I'll be eagerly anticipating the spring collections of these labels. What do you think of their work?