all images courtesy of Life in Travel
If you have a thing for labels like Lanvin, Givenchy, Balmain, Rick Owens and YSL, then meet your BFF, Dallas-based blogger Hanh, of Life in Travel. I stumbled across the blog a few months ago and have been hooked ever since. Life in Travel features style photos of the gorgeous Hanh and her latest shopping finds (shot beautifully by her husband). In addition, the blog features posts about travel and food, two of Hanh's other passions. For someone with an enviable shoe collection and two adorable girls, she comes across as surprisingly modest and radiates genuine warmth. Please read on to learn more about this week's featured blog: Life in Travel...

Five Questions for my Favorite Bloggers
Who are you?
I'm a good mom, a great wife, a thoughful child to my parents, the only chef of my family, a person who loves to see my kids and husband laugh, a lady who has a passion for fashion.

Where are you?
I'm everywhere from north, east, south, west. You may see me in Texas somewhere. And for sure, you'll see me at my blog.

What is the concept behind your blog?
I've been traveling many places with my family, have a chance to eat different foods from different places. And I like to make journal of what I have experienced. I also love fashion. All that, I would love to gather into my blog as my journal and I also would love to share with you all. I see the blog world as a good opportunity for me to make long distance friends or learn something new out there.

When you are not blogging, what else do you enjoy doing?
When I'm not blogging, I of course run some errands, driving my kids to gymnastics, ballet, ice-skating...go to the grocery store, cook for my family. All the little daily things that come with being a mom and a wife. I do enjoy cooking and I Iike to make up my own recepies. I enjoy baking with my kids, it's fun. And I love travel with my family as well. Oh, one more thing, I enjoy shopping too, as you all see that through my blog. I used to love listen to music for hours, since I have kids that passion seems fading away.

More importantly… what are you wearing? :)
When I do a mom's job, I wear whatever tee from Madewell, Gap or something from Forever 21. When I'm going out, I love to dress up in things from Rick Owens, Givenchy, Balenciaga...to Urban Outfitters, American Apparel or Forever 21.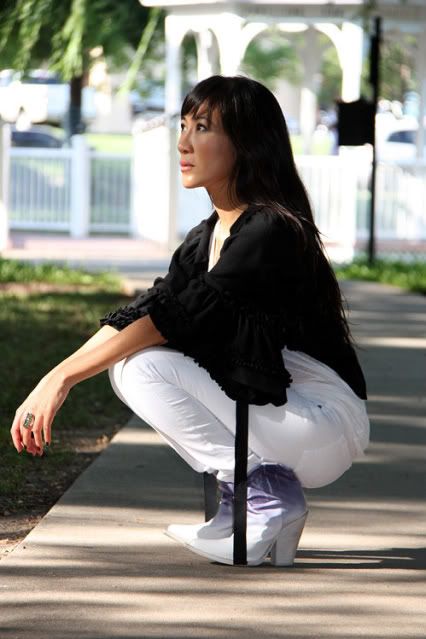 Hanh in summer white denim and Margiela boots
Just a peek of her epic shoe collection, which was featured in this post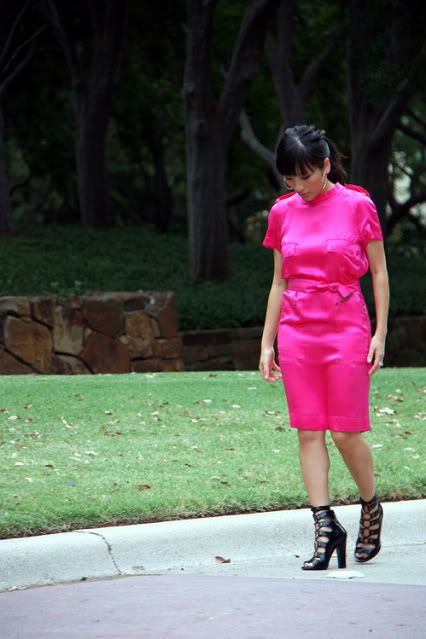 Hanh in Lanvin
In a pretty DIY skirt
Thanks for the interview, Hanh! Skip over to her blog here:
http://life-in-travel.blogspot.com
.
More Behind the Blog interviews:
Dapper Kid
District of Chic
It's Unbeweavable!
**New Giveaway on Dream Sequins: Win a Necklush courtesy of Moxsie! Click here to enter!**