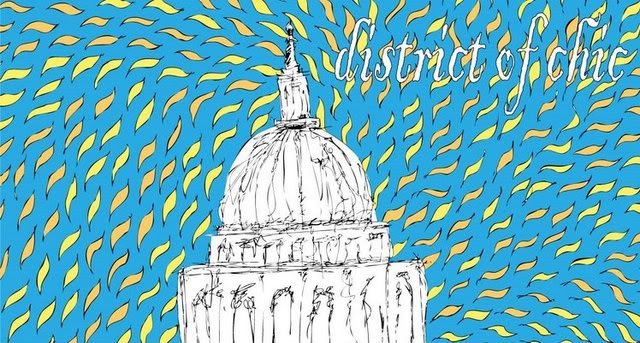 District of Chic blog header
all images via District of Chic


A few years ago, I did a tour of some grad schools, mostly in New York and Massachusetts, with a brief tour of DC in between. At the time, some snooty New York friends gave me a little dismissive wave and said "Oh you know they all wear ill-fitting, boxy suits there, right?" Years later, those same snooty friends changed their tune; suddenly, DC was THE place to be and they were scrambling to find friends who would invite them to an inauguration ball. DC style is more subtle than its preppy, khaki clad image would suggest and a shining example is E, a style blogger who showcases classic yet edgy personal style on her blog, District of Chic. I love how E mixes high/low fashion buys and works some beautifully minimalist silhouettes. Her shoe collection is worth the click alone! To learn more about District of Chic, read this interview... and be sure to check out the blog for gorgeous, inspiring photos.

Five Questions for My Favorite Bloggers

Who are you?

I'm E!

Where are you?

In the District of Columbia – my favorite place to be right after Paris and New Orleans, but I really do think that it is a much more culturally and sartorially diverse place than it is made out to be.

What is the concept behind your blog?

Hmmm, tough one… I got into fashion blogging because I'm ADD and burn through magazines at a ridiculous pace, thus fashion blogs were the next, most logical step. I guess my blog is mostly my sartorial creations, but it's also a bit of art, inspirations, food, wine, random cultural things, and my general love for DC.

When you are not blogging, what else do you enjoy doing?

Horseback riding, watching some really terrible television shows, shopping online (I have a large-sized problem), Netflix-ing, drinking, eating…

More importantly… what are you wearing? :)

An Alexander Wang dress I just snapped up at a consignment store and intend to love forever, Maison Martin Margiela shoes from Yoox, and a much-loved vintage over-sized Ralph Lauren clutch (this was an outfit for dinner with el significant other at one of our favorite restaurants, Brasserie Beck).


above: E in Helmut Lang top and Forever 21 shoes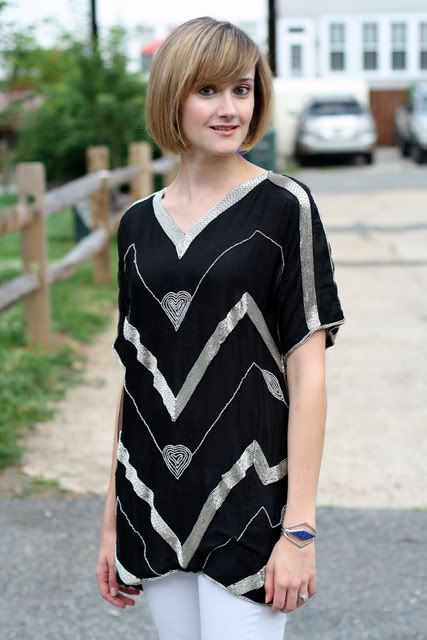 above: E in vintage top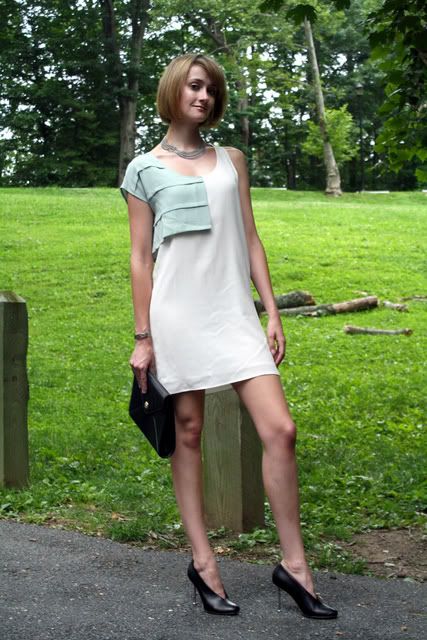 above: E in Alexander Wang dress and Margiela shoes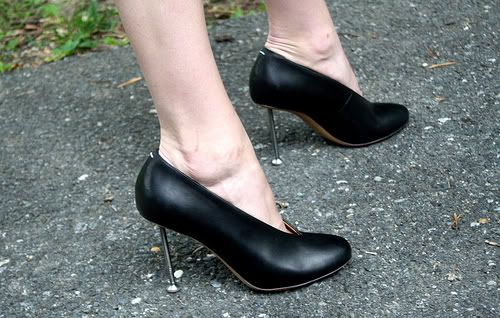 above: closeup of Margiela shoes
Thanks for the interview, E! For more information, see
http://districtofchic.com
...


More Behind the Blog interviews:
It's Unbeweavable!
SOS! Save Our Shoes
The Swelle Life