all images via SOS! Save Our Shoes

SOS! Save Our Shoes is a charming fashion blog based in the UK (mostly in Cork, Ireland), though its two charismatic authors, LJ and Fi, often take their show on the road, spending some time in London and other parts of the globe this summer. If you haven't had a chance to explore their blog yet, I would suggest that you take a look! I loved their
impromptu interview with some of the contestants on reality TV show Make Me a Supermodel
and this fairly recent
coverage of Graduate Fashion Week
. This is a personality driven fashion blog and I know that you too will fall in love, as I have, with their charming, chatty writing and their eclectic take on fashion. Read this snapshot interview to learn more...

Five Questions for My Favorite Bloggers

Who are you?

We are LJ & Fi, two girls who love each other, shoes, cupcakes, granny chic, and more shoes, in no particular order. Fate brought us together, and SOS! was the consequence.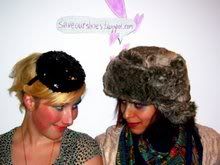 Fi and LJ

Where are you?

We are behind a computer screenl whether it's in Cork, London, US, Kuwait, etc etc. We are citizens of the world, dah-ling, and damn proud of it!

What is the concept behind your blog?

Style. Fashion. Art. Creativity. We like to talk about what we wore, what we would like to wear, who we would like to wear, what we do, who we did, when we are going to do it next. But mostly, we just like to talk. And don't forget to SAVE THE SHOES.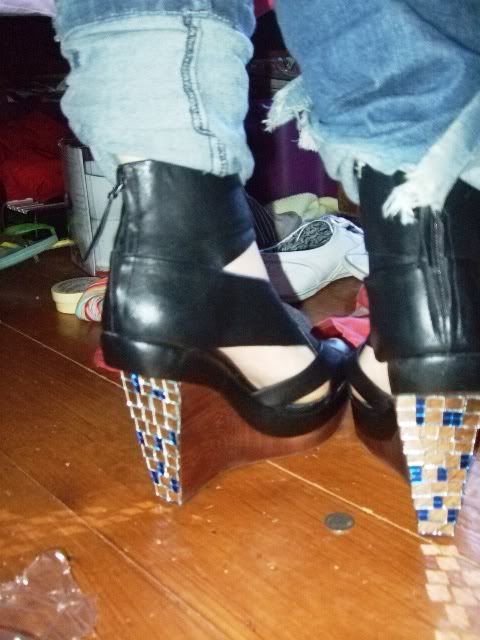 from a recent post on DIY disco wedges
LJ showing off
her recent shopping finds
When you are not blogging, what else do you enjoy doing?

We are dancing, musicing, gigging, fooding, reading, studying, laughing, roboting, makeuping, sleeping, spooning, hugging, kissing, shoesing, dressing, fondling, listening, tweeting, breathing... ALL AT THE SAME TIME. We multi task..ehem.


More importantly… what are you wearing? :)

Nothing but naked ambition...or pyjamas (to be honest).

Thanks for the interview, LJ and Fi! Check out
http://saveourshoes.blogspot.com
!


More Behind the Blog interviews:

The Swelle Life
All In Your Innerspace
39th and Broadway