Emerging designer Christine Rhee designs structured yet fluid dresses and separates with an easy, smart-sexy appeal for her womenswear line, CRHEE: pieces that would work for a creative professional running straight from the office to cocktails with friends. I recently visited her downtown Manhattan studio to check out her recent collections and learn more about her design philosophy. One unintended consequence of my visit: falling in love with a Fall/Winter 2009 black silk trench-style coat with ruffled insets that flutter as the wearer moves, reminiscent of Ann Demeulemeester's slender silhouettes. While most of her line is moderately priced, Rhee informed me that my beloved coat was the priciest piece from Fall, which means that I should probably start saving now, because I can't stop thinking about it. Read on to learn more about CRHEE…

above: a silk blouse with cutouts and pajama inspired shorts from Fall/Winter 2009
all images courtesy of the designer


Christine Rhee
took a circuitous route to fashion, graduating from Princeton with a degree in architecture and interning for designer
Mary Ping
, before launching her womenswear line,
CRHEE
(pronounced "cree"), about two and half years ago. Her clothing is intellectual and minimalist: subtle, seasonless takes on classic officewear shapes. "I kind of like contrary pairings—things that seem like they shouldn't fit together," Rhee says. "I try and bring that to the design of the clothes and the brand itself."
Her love of contrary pairings inspired her first full collection, for Spring/Summer 2008, which was based around, as she calls it, "contrary office clothes": pieces inspired by office dress codes with touches of non-traditional rebellion and subversion (a bare cutout back on a shirtdress, for instance). "Things like studs and leather are commonplace now," Rhee explains, adding that for her first collection, she wanted to explore "her own idea of rebellion."
While Rhee admits that her first collection was a commercial disappointment, her second collection, for Fall/Winter 2008, inspired by rural environments and the films
Wings of Desire
and
Badlands
, fared better with buyers. Her next collection, for Spring/Summer 2009, again mined officewear themes, this time from a space-age angle. "I was really inspired by the movie
Gattaca
," she says. "The idea for this season was if you worked in futuristic space-age office: what would you wear? I usually like to create some sort of character and dress that character each season." For Spring, the shapes consisted of unconventional suits, which might be worn by a space-age
Prince
.
above: a motorcycle-style jacket for Fall/Winter 2009
above: the same motorcycle-jacket unzipped


For her most recent collection, entitled "
2001
," for Fall/Winter 2009, Rhee showed pieces in a mostly black and white palette with natural fabrics like cotton and silk. There were two main inspirations for Fall: one was
David Bowie
in the cult classic movie,
The Hunger
and the second was the name of the collection itself, the year 2001. "For me, that's my favorite time period," Rhee says of the year 2001. "When I really fell in love with fashion… I had always followed fashion, but that was around the time of
Hussein Chalayan
and
Helmut Lang
in their heyday; and
Nicholas Ghesquiere
at
Balenciaga
in his early days. I always think about that period with fondness." While thinking about her latest collection, Rhee also began looking at
Melanie Ward's
personal style and decided that Fall's concept would combine these seemingly disparate inspirations: "If we refilmed the Hunger in the year 2001 and cast Melanie Ward."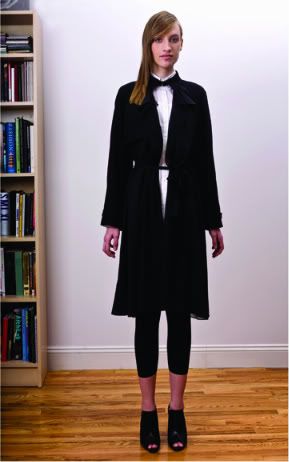 above: a black silk jacket from Fall/Winter 2009


Despite the complex inspirations behind her clothing, Rhee says that her ideal customers are simply women who really love clothes and enjoy design. For her next collection, she is working on designing computer based prints, a departure from the monochromatic palette of previous collections. Holding up a CD cover of a swirled pattern she designed for a friend's band, Rhee says she is still trying to envision how the pattern would work in a repeated form on fabric. In addition to textile design, she plans to work on more collaborations with friends, especially those from a non-fashion-related background for future projects, such as films and lookbooks.
Rhee is also sure to continue refining her signature officewear separates. "I like the aesthetic of officewear because a lot of it is based on men's classics: the suit, the oxford shirt and the button-down, all European classics," she explains. "Clothing can be expensive and if you are going to spend money on something, I want to make sure that they last and, years from now, you won't look like a crazy person. For me, that's the big appeal of officewear- the style is very classic and lasts for a long time."
CRHEE is currently available online at Standard Deviation. For more information, check out the designer's website:
http://crhee.com
.
Related Links:

She Breathes checks out CRHEE at Standard Deviation
Blast Magazine profiles the designer
Lala NYC interviews Christine Rhee
Other Designer Profiles on Dream Sequins:
RosenMunns
The Battalion
suwha