From colorful cartoon characters like Jem and Minnie Mouse to a breathtaking collage of inspirational photographs culled carefully to showcase her own sense of style, the blog alixrose is an inspirational daily read for me. It's also refreshing to step away from my own New York-centric musings and take in a bit of West Coast charm by way of Seattle, to be more exact. Here's a taste of her signature, sassy style from the blogger herself, this week's Behind the Blog spotlight. Please check out her blog to learn more!


Five Questions for my Favorite BloggersWho are you?
A petite chatter box that can't help humming or from laughing at herself.
Where are you?
In the beautiful city of Seattle. I have traveled and lived in many places, but every time I flew back in, I would think there's no place like home.
above: Seattle skyline
all images courtesy of alixrose


What is the concept behind your blog?
It started out as a way to fulfill my insatiable appetite for fashion. I am a writer at heart and my dream was to be a fashion journalist. I felt as if I wasn't putting my Journalism degree and Fashion Promotion degree to use so I thought blogging would be a way for me to do that. I wanted to put in my two cents and maybe have a voice in the blogsphere. I wasn't sure if anyone would care, but I realized that I just needed to do it for myself.
In the last few months blogging has evolved into something more than I could have ever imagined and I owe that to my readers and other bloggers, who have been sooo supportive. My blog has become my inspiration board. I blog about my favorite things, designers, photographers, models and other bloggers. At the heart of it I just want to share things that I love and maybe others will fall in love with the expressiveness of fashion as well.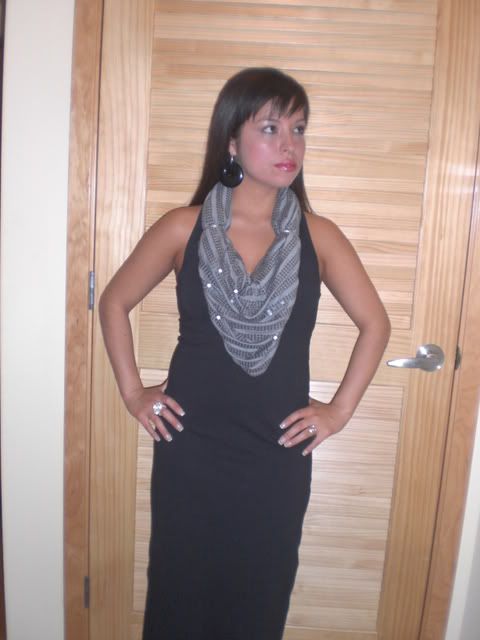 above: a photo from a recent brilliant post about how Alix used a sequin dress to transform a plain black dress


When you are not blogging, what else do you enjoy doing?
Not Blogging... what?? Just kidding! I am a lover of many things. I am part of a underdog softball league that plays every Sunday. Its awesome because its a guaranteed good time, most of my friends are on the team. I especially enjoy karaoke even though I have to fight my brother for the mic. I am part of the fashion team for a Seattle based magazine,
DList Magazine
. I also love to attend fashion events and chat fashion with two of my favorite people, Sara of
Spun
and Jordana of
Clutch_22
.
More importantly… what are you wearing?

:)I wish I could say something brand name and exciting that would have you ooohing and ahhing but I don't lie to my friends and I am not going to start now. I am wearing my favorite hoodie, the hoodie that I like to curl up in when I am sick, or when I am so cold that I think I will never be warm again, the hoodie that just makes me feel comfortable. I've had it since I was a Freshman in High School, so a long time. I was on the swim team and we all got matching hooded sweatshirts, I will never get rid of it.I think we all have our go to comfort piece and this one is mine.(Note: I never wear it outside the house)
I am also wearing some skin tight... wait for it...... exercise pants. I had a softball game today and these are super comfortable. They are by
Adidas
and I seriously wish I had a cupboard full, great for games, working out or just for being comfortable. Can you tell its a Sunday for me?On a regular day I like to wear thrift shop finds with my retail pieces, a lot of jewelry and bright lipstick. I will seriously not leave the house without lipstick. Seriously!
Intrigued? Read more at
www.alixrose.com
! Thanks for the interview, Alix!